Bounty & Beets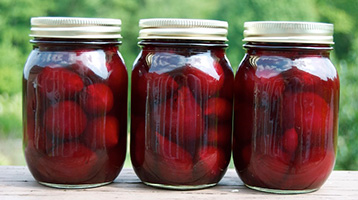 When we unpacked our oversized box from Grubmarket yesterday, we felt the Bounty as color exploded in our kitchen. The very real flavor of strawberries … after months of finding only those vague, cardboardy look alikes in the grocery store… wow! The kale and onions just had to turn into a Coconut Thai Salmon Rice Noodle supper. There was no holding them back. But it's the beets we are the most excited about! Today we are making things come even more alive at our house! The beets – both red and golden – are being sliced and arranged in clean jars and fermented. Yes! This is no ordinary pickling! Simple … like making yogurt, kefir or kombucha, we are aiming for a probiotic lactic acid bacteria. This not only preserves the food, but creates vitamins and a balance of microbes that boost immune systems naturally.
I feel rich and ritualistic as I get out my grandmother's aprons. It was her cooking that inspired me to love doing this. And it will be my grand-children that come and help me, carrying this tradition into the future generations. For our brine we use Himalayan Pink Salt. Sea salt can carry molds, and any other salt does not produce a healthy brine. For one liter of 2% brine, we fill a pitcher with 1000 ml. filtered water (1 liter). Then we multiply that by .02, which equals 20, which tells us how much salt to add (in grams) to the water. Presto! The brine is ready!
We will be adding a few cumin seeds for spice. Be careful to only use seeds, not powder, to avoid mold. Sprinkling a few in the bottom of each clean jar, we will top those with beets, sliced 1/4 inch. Pouring brine in each jar, we will then weight the beets, by setting another clean jar in on top for the first step fermentation stage. This prevents air or insects touching those veggies. We like to tuck our bubbling veggies in the pantry, on a tray, where they can spill or burp freely when motivated, yet stay at room temperature for 1 to 2 weeks. I always top the whole thing with cheesecloth to prevent any stray insect or mold from nestling in. Sometimes they are grabbed and served before the fortnight, but should any jar-full plan to last into the next few months, I can put a lid on and pop them in the fridge at this point. If I want extra kick, I stick in a basil leaf or two for a few days, then pull it out so it doesn't spoil. The main ingredients are our enthusiasm and the joy that bounty triggers! Can't wait!!!