Feature: Interview with Casa Sanchez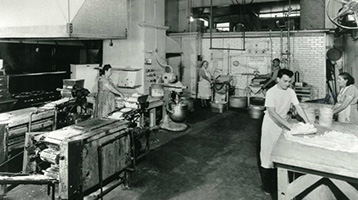 We're excited to feature an original San Francisco company that makes authentic Mexican foods, called Casa Sanchez. Their restaurant was founded in 1924 by Bob Sanchez's grandparents and was eventually turned into a fresh salsa and tortilla chip manufacturing and distribution company. They have incredibly delicious guacamole, salsas and even handmade tamales! We recently sat down with Debra from Casa Sanchez, who answered some questions for us about the company and third-generation family member, Robert C. Sanchez, who's continued to run the family business since 1975.
GRUBMARKET: Can you tell us a bit about Casa Sanchez as a business?
DEBRA:Since 1927, R. Sanchez & Co. prepared and delivered authentic Mexican food throughout the San Francisco Bay area; specifically tortillas, cheese, chorizo and spices. Four generations later, Casa Sanchez Foods manufactures and distributes, Fresh Salsas, Guacamole, Tortilla Chips and some prepared foods such as Tamales. All products are made fresh daily at the Millbrae, California facility.
GRUBMARKET: Did you always know you wanted to have a family business and what inspired your family to start it?
DEBRA: Bob Sanchez was born into the 3rd generation of the business and saw the opportunity was there to grow the business by putting in lots of hard work while still having fun along the way. Bob got his entrepreneurial spirit from his grandparents. He was always taught to take on a challenge, be productive and always keep the family involved.
GRUBMARKET: What is the key to success in your eyes?
BOB: Enjoy every day, love what you do and put passion in everything you do!
GRUBMARKET: In what ways do you interact with the community/give back:
DEBRA: Bob donates to many different organizations; of particular interest are senior and youth groups. Bob personally mentors children by coaching local youth basketball teams. Additionally, he will soon begin to participate in teaching classes in business incubators on how to take product to market.
GRUBMARKET: What is your most popular item:
DEBRA: Most popular items are Real Guacamole, Medium Salsa Roja and Thin & Light Tortilla Chips.
GRUBMARKET: What are you most looking forward to working with GrubMarket?
DEBRA/BOB: Grub Market provides the opportunity to reach a new clientele and develop more friends.
GRUBMARKET: What is your favorite food (besides your own product):
DEBRA: Bob's favorite food is his wife's cooking, especially her Chicken Tandoori.