GrubMarket West Coast Expansion!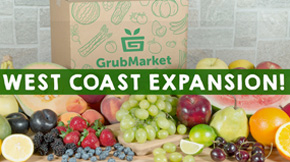 GrubMarket's mission has always been to conveniently make fresh & healthy food accessible to everyone, and we're excited to announce that West Coast delivery is back…and it's entirely FREE for all orders above $39.99! Therefore, starting today, we're excited to open our GrubMarket marketplace to most residents of Nevada, Oregon, Washington, Arizona, New Mexico, Utah, and Idaho.
New Features!
We significantly reduced ALL of our product prices
We added tons of NEW popular, seasonal, and unique items from farms and artisan vendors
We offer FREE 2-Day shipping for all orders above $39.99
All Other Nationwide States:
While we are very excited to open our marketplace to seven new West Coast states, we will absolutely notify all other customers when we open our marketplace to more Nationwide states. Thank you for your patience!