Purple Potatoes? I'm in!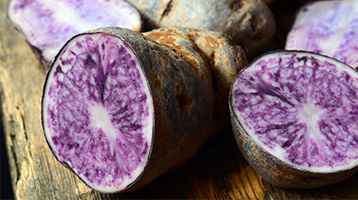 I live in Los Angeles where people and vehicles are plentiful, which translates into clogged freeways and the time and stress involved in navigating through them. I also try to eat organic and seasonally whenever possible. This could involve a lot of time spent on the road and in various markets, since I'm a discerning eater, a foodie and someone who strives to get a lot of bang for their food buck. For me, GrubMarket is a win/win situation on all counts. Wonderful food is only a computer click away. the produce is fresh and reasonable, and they have purple potatoes, which is how I initially became a customer.
I am pretty addicted to potatoes, so I decided to do an online search to find out which ones were the healthiest and still provided great flavor. That's when I discovered the lovely, delectable and very healthy purple potato, along with the terrific online market aptly named GrubMarket. I was in carb heaven and very pleased to find a resource that sells these coveted spuds, and at a great price to boot, but it doesn't stop there! Everything I've ordered has been delicious and very reasonably priced. Customer service is excellent with the staff always striving to make the customer happy and coming back for more. Countless fruits, veggies, eggs, meats, seafood and snacks later, I remain a loyal customer.
I'm also a writer who (when not cooking, eating and feeding other people) is always looking for opportunities for a creative outlet. What could be better than combining my love of food with my love of words. Thanks for this opportunity, GrubMarket!