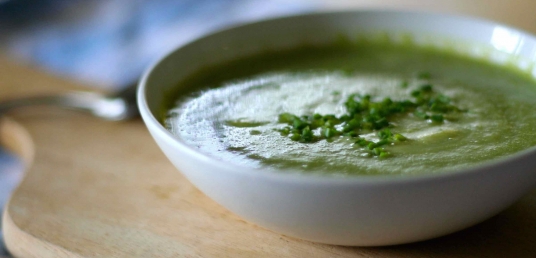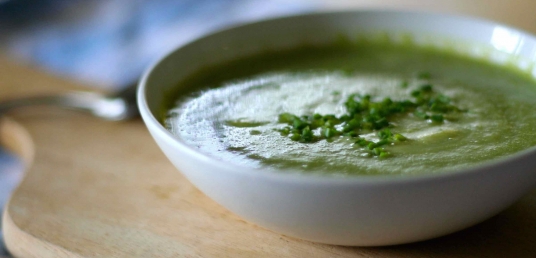 Cheesy Broccoli Leek Soup
August 3, 2016
This soup hits the spot! But maybe best of all—it's easy! I like to serve this alongside a nice roasted chicken.
Prep: 20 mins
Cook: 1 hr
Yields: 2-4 Servings
Directions
1Sweat the leek and garlic (or garlic powder) in the butter. Add a large pinch of salt. Add about ½ cup of the stock, throw in the florets, raise the flame to high, and cover.
2In a few minutes, when it starts to boil, turn it down to medium and keep the lid on. Simmer for about 10-15 minutes or longer, depending on how big your broccoli pieces were. If you stab them with a fork, they should have zero resistance.
3Toss the whole thing carefully in a blender or food processor and give it a whiz till its nice and blended. You may have to blend it in batches, careful not to overfill the machine with liquid.
4Place the blended soup back in your pan and bring to a simmer. Add a glug of cream and when it gets hot again, turn the flame off and stir in as much Jersey Monterey Jack or cheddar as you want. Taste, and add salt and pepper as desired. Yum.
Ingredients
2 Leeks, minced
2 Cloves garlic, minced (or ½ teaspoon garlic powder)
1-2 tbsp Butter
pinch Salt, to taste
3 cups chicken or veggie stock
1 Head of broccoli, cut into small florets
1/2 cup Heavy cream
1/2 cup Shredded Jersey Monterey Jack or cheddar cheese
0 Reviews