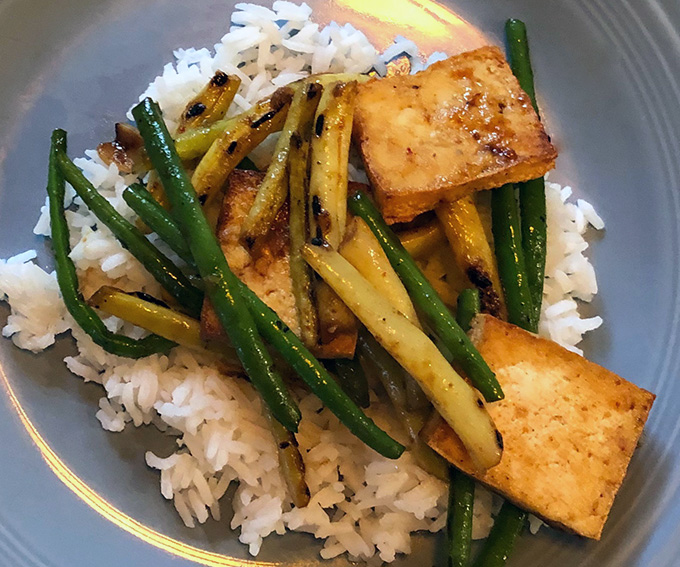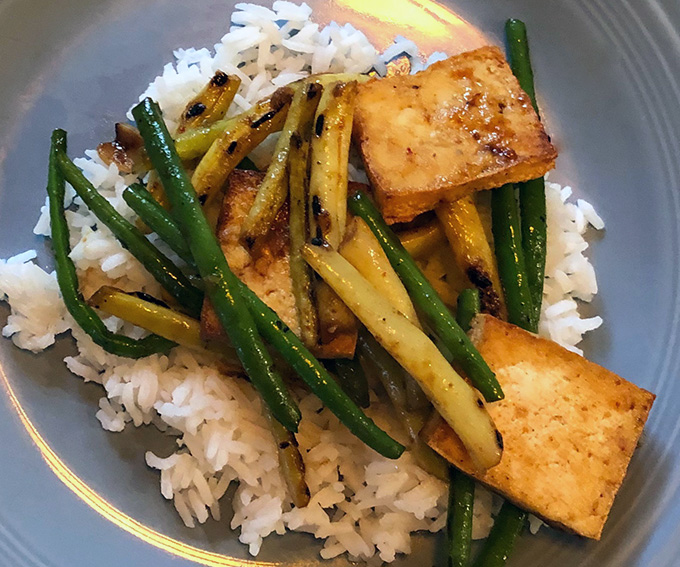 Green & Yellow Beans Prik King
June 5, 2019
Our multicolored take on this Thai classic pairs green and yellow beans for a super vibrant and nutritionally dense stir fry that comes together quick--the perfect recipe for a lazy weeknight that tastes better (and is better for you!) than ordering in.
Prep: 30 mins
Cook: 15 mins
Directions
1First, wrap your tofu in a dishcloth and weigh it down with a heavy pot or kettle to press out all the water. Wait fifteen minutes, then unwrap and slice into one-inch rectangles, using the dishcloth to blot any water from the surface of the slices.
2Heat the oil in a wok or large pan over medium-high heat. When it's bubbling, cook the tofu in batches, leaving a few inches between each slice and cooking for two minutes on each side. Once the tofu is cooked, transfer it to a paper towel-lined plate.
3When you have finished cooking all the tofu, turn the heat up to high and add in the beans, stirring occasionally until they have blackened in places. Add two tablespoons of water and cover, lowering the heat to allow them to steam for five minutes.
4After five minutes have passed, add the garlic and curry paste and turn the heat up. Stir fry for about one minute, until the curry paste smells aromatic, and then toss in the fish sauce and coconut aminos, using the liquid to scrape up any bits of curry or garlic that have stuck to the bottom of the pan. Serve over rice, greens, or enjoy as is!
Ingredients
1 lb extra firm tofu
2 tbsp sunflower or avocado oil
2 cups yellow beans, trimmed and snapped in half
2 cups green beans, trimmed and snapped in half
2 large cloves of garlic, thinly sliced
2-3 tsp red Thai curry paste (taste first to gauge the level of spice)
1 tbsp fish sauce (regular or vegan)
1 tbsp coconut aminos