BIG ANNOUNCEMENT: GrubMarket Raises $20 Million in Series B Funding!
[shareaholic app="share_buttons" id="27983777"]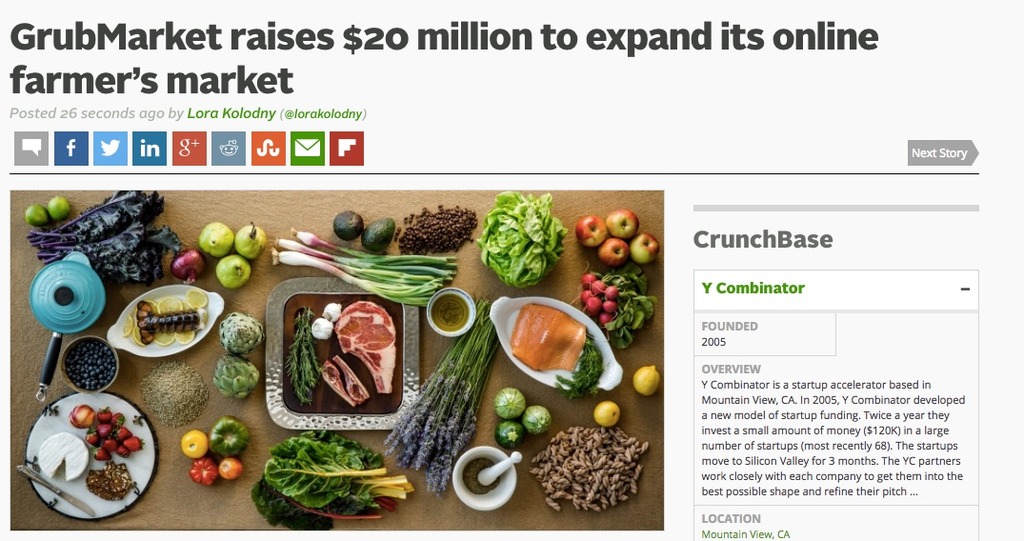 Today, GrubMarket has some really big news to share!
We're thrilled to announce that we recently completed a round of Series B funding, which will assist us in taking our GrubMarket shopping experience to a whole new level. This news was just announced on TechCrunch, and we're delighted to share the article with you. We could not have achieved this goal without our wonderful and loyal customers, so we sincerely thank you for your continued support!
We would love to share this news with others as well, and we're more than happy to give you 500 POINTS ($5 value), if you'd kindly leave a comment on the article. Just send a screenshot of your comment to [email protected] and we'll add those 500 points to your account within 24 hours! It would also be amazing if you'd like to share the GrubMarket news on your Facebook or Twitter! #ShareTheHealth
Click the image above to check out the TechCrunch article!
Our entire GrubMarket team, farmers, vendors, and producers greatly appreciate your business, and we greatly look forward to continue delivering unbelievable quality at affordable prices to you, your family, and your friends. Thanks again for your incredible support.
Sincerely,
The Whole GrubMarket Team