What to do with Dragon Fruit – Make a smoothie of course!
[shareaholic app="share_buttons" id="27983777"]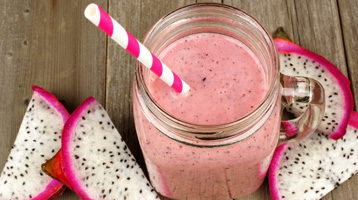 So I got a Dragon Fruit from Grub the other week and was trying different recipes with it. Since it is a pretty subtle flavor I thought I would try it in a smoothie and it was delicious. So here it is, of course you can add or subtract or change ingredients with what you have on hand or like.
3/4 C Coconut Milk (homemade or carton)
1 tbsp flax meal
1 tbsp sesame seed powder
2 tbsp collagen (could skip this or add a different protein powder)
1 tbsp cacao powder
1/2 tsp cinnamon
1/2 tsp vanilla
4 med-lrg strawberries
1 C dragon fruit, chopped
1/4 avocado
Handful of carrots
Handful of Escarole
1/2 banana
Blend all ingredients until smooth. Makes 1 large smoothie or 2 small smoothies.
Top with cacao nibs and unsweetened coconut flakes if desired.