Boost Your Immune System with Local Vegetables!
[shareaholic app="share_buttons" id="27983777"]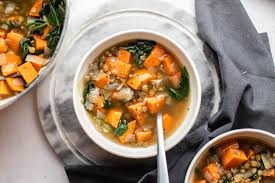 With the worry of contracting the coronavirus on everyone's mind, one of the most proactive ways you can ensure you and your family's health aside from practicing excellent hygiene habits is by paying attention to what you put in your body. Lucky for us, local farmers have the most immune boosting foods you can eat and so getting your food from your neighboring growers and centering your meals around them is not only an excellent way to protect you from illness but also the perfect opportunity to support your local economy which is always needed, and in uncertain times like these, essential to ensuring economic strength in our region.
There are many different fruits and vegetables that boost your immune system. The following are in season now and available in ample supply from our farmers:
Broccoli: A great source of vitamin C and antioxidants.
Sweet Potatoes: Rich in beta carotene which makes it a great source of vitamin A.
Spinach: Has ample vitamins E & C which supports the immune system. Also contains flavonoids which research has suggested can ward off the common cold.
Mushrooms: Contains Vitamin B and selenium, which support the immune system functions.
Carrots: High in antioxidants, vitamins and dietary fiber.
With the rainy, cold weather a warm hearty bowl of vegetable soup is an ideal way to marry several of these delicious immune boosting foods in one meal. Here is a great recipe that includes them as well as lentils, another plant-based food that is high in vitamin B, protein, and iron:
Rustic Lentil & Sweet Potato Soup
1 onion, diced
1 carrot, diced
6 oz mushrooms, diced
1 ½ cups sweet potatoes, diced
3-4 cloves garlic, minced
4 cups vegetable broth (plus 1 cup water)
2 tbsp tamari (or soy sauce)
1 cup green or brown lentils, uncooked
1 cup spinach, or more if desired
1 tsp dried parsley
¾ tsp dried thyme
Salt to taste
In a stockpot over medium-high heat, saute onion for 5 minutes in olive oil. Add potatoes, carrots, mushrooms, and dried thyme & parsley. Stir and saute 3-4 more minutes.
Add garlic. Stir and saute 1 minute.
Add 4 cups broth, 1 cup water, and tamari. Increase heat and bring to a boil.
Once boiling, add lentils (rinsed). Cover and reduce heat to a simmer. Simmer 30 minutes or until lentils are tender. Add more broth/water if desired.
Stir in roughly chopped spinach during the last couple minutes of cooking. Salt/pepper to taste or add more tamari.