C Magazine interviews Chako and Reisha about their LA faves
[shareaholic app="share_buttons" id="27983777"]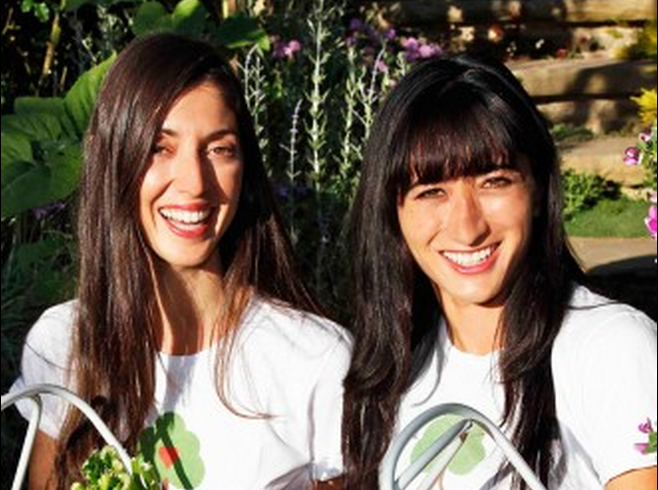 ABOUT TOWN: FARMBOX
by Katherine Shukhman
on December 30, 2013
Photo by Myra Vides Photography
"We sat next to each other and hit it off," says Chako Fairbanks, half of the Los Angeles-based Farm Box duo. The three-year-old company facilitates the delivery of community supported agriculture (CSA) boxes to private homes and businesses in L.A. and San Francisco, with service to Orange County launching this month, just in time to top lists of year-end resolutions. "It was love at first sight," says Reisha Fryzer describing the initial meeting with Fairbanks, and noting that within a month of chatting at an environmental group event in Malibu, the two business partners decided to join forces to create their company.
Fryzer, an L.A. native and Fairbanks, a Utah transplant, wanted to deliver the tastiest produce around from small local farms, and they devised a new type of eco-friendly, reusable basket to hold the hand-selected artisanal goods. The boxes are customizable with an array of options for juicing or barbequing, and there are even Paleo boxes (protein-centric groceries popular among the CrossFit crowd). Leftovers, always a challenge for CSA box subscribers, can be placed in the reusable baskets and returned to local farms for compositing. Some farmers even turn extra produce into jams and preserves. And, Fairbanks says, "to just seek organic products is no longer good enough." She explains that health-conscience consumers also want locally-grown goods culled from a wide range of varieties for each type of produce. The Farm Box founders track down favorites such as a dry farm strain of Brandywine heirloom tomatoes, and other seasonal standouts such as purple bok choy. Here, practicing what they preach, Fairbanks and Fryzer share the local L.A. gems they frequent as they travel around town.
MALIBU FARM Fairbanks: It's located right on the Malibu Pier. And Chef Helena Henderson works with many of our partner farmers and her food is fabulous, the quality is amazing. Last time I ate there, I ran into Malibu farmer Larry Thorne who was delivering tomatoes straight from his field to the restaurant, the ingredients are that fresh.
ELAINE'S BAKERY AND CAFE We love Elaine's, it opened in September on San Vicente Blvd., in Brentwood. They use fresh, seasonal, and natural ingredients. Also, we like to work with the chef, who is a regular contributor for our newsletter.
FARM SHOP Fryzer: The produce, cheese, nuts, and meats are locally sourced. I like to know where my food came from before it arrives from the kitchen. After eating, I shop for produce at the store inside the restaurant.
TRA DA NOI Fryzer: It's the best Italian in Malibu. The food is so good and it's all from local farms and always fresh. I generally cook at home, but if I'm not, I come here.
AOC WINE BAR AND RESTURANT Fairbanks: It's located on West 3rd Street, and Chef Suzanne Goin makes delicious dishes using seasonal produce.
URTH CAFÉ Fairbanks: I can ride my bike to the Sants Monica location in the mornings for lattes. There's also an amazing breakfast menu and pastries.
SUNLIFE ORGANICS Fryzer: It's all the way out at Point Dume in Malibu, but this is by far the best juice spot I know. The drinks here are the best way to start or end a hike or beach walk in Malibu.
OSCAR'S CERVETECA Fairbanks: Lately, this is my local hangout spot to go with girlfriends, in Venice.
PAPA CRISTOS MARKET Fryzer: I'm currently obsessed with this place, and I love buying anything here to make authentic Greek food.
HOLLYWOOD SUNDAY MARKET, SANTA MONICA WEDNESDAY MARKET We visit about 5 farmers markets throughout the week, but these two are favorites. Lots of farmers themselves have stands at these spots, so it's a great place for us to meet with many of them at once. And we sample what's being harvested each week and pick our favorites.
SUR LA TABLE Fryzer: It's heaven. A new cooking appliance always makes me happy. Jewelry is a distant second.
BECKER SURFBOARDS Fairbanks: I shop here for beachwear and wetsuits. My favorite place to surf is at Point Dume, in Malibu. Growing up in Utah, I didn't even swim in the ocean until I was 17. Now I jump in the water every chance I get.
JAMES PERSE Fairbanks: Most of my wardrobe is from James Perse. I like that it's comfortable to lounge in, yet stylish to wear out on the town. I'm an active person and these clothes allow the wearer to move. I've been at a farm picking potatoes and ripped a hole in a pair of jeans—so the ability to move is very important.
JAQUIE AICHE Fryzer: I love all of her designs. Her body chains are beautiful and unique. Also, I adore her Blessev amulet necklaces, which are physical reminders of positive thoughts
SOUL CYCLE Fairbanks: For fast-paced exercise I come here. I like the Brentwood location on the corner of Wilshire and San Vicente
GOLDEN BRIDGE YOGA Fryzer: A few years ago I met a friend for yoga here and I was hooked. Soon after that I enrolled in the teacher certification program and went to India. It's a place I can go to meditate, pray, practice yoga, and eat great food. I could easily spend hours in the beautiful sanctuary in West Hollywood or Santa Monica.
SYCAMORE CANYON Fairbanks: There are so many great hikes here in town, but I really like the water that runs through this one. The water flow is seasonal, and I hope the waterfall gets replenished soon. It's one of my favorite spots.
THE FOUR SEASONS BILTMORE Fairbanks: This is my favorite getaway spot. And it's only one hour north of L.A., in Santa Barbara. There are beautiful rooms, great food, and an incredible Olympic-size pool and jacuzzi right on the beach. I have a soft spot for places where I can enjoy a drink and watch the sunset.
SHUTTERS ON THE BEACH Fryzer: I live in the Venice Canals, just a hop and skip from the Venice Strand, and I have a quiver of cute beach cruisers parked at my place. My friends and I ride around town watching people and street performers before heading to Shutters in Santa Monica for a glass of wine at sunset.
OLYMPIC SPA Fryzer: Days and night are filled with work, so my girlfriends and I love to meet at the spa to relax! It closes at 10pm so we can arrive later in the evening and skip the rush hour traffic. One visit and I'm revitalized for the week.