Farm Feature: Family Friendly Farms!
[shareaholic app="share_buttons" id="27983777"]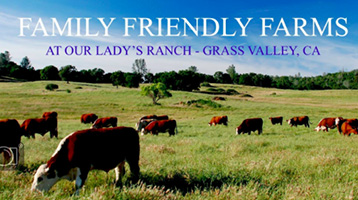 We're delighted to announce that we have recently expanded our product offerings from Family Friendly Farms, a wonderful small family farm based in Grass Valley, CA. GrubMarket has proudly featured Family Friendly Farms meats for close to two years, and we admire Family Friendly Farms' commitment to the art of sustainable living. Here's some additional info about Family Friendly Farms, in their own words:
From Our Family Farm To Your Family Table
We sustain a small family farm and share its healthy yield with our local and extended community. Every animal is humanely raised with consideration for the environment. We work together as a family in order to closely monitor the highest quality of nutrition, tenderness, and flavor. We also eat what we grow so we eat what you eat, and we really enjoy the superior quality of this all natural, grass-fed beef and lamb, pasture raised pork, and free-range chicken.