Farmer Friends: Harry's Berries
[shareaholic app="share_buttons" id="27983777"]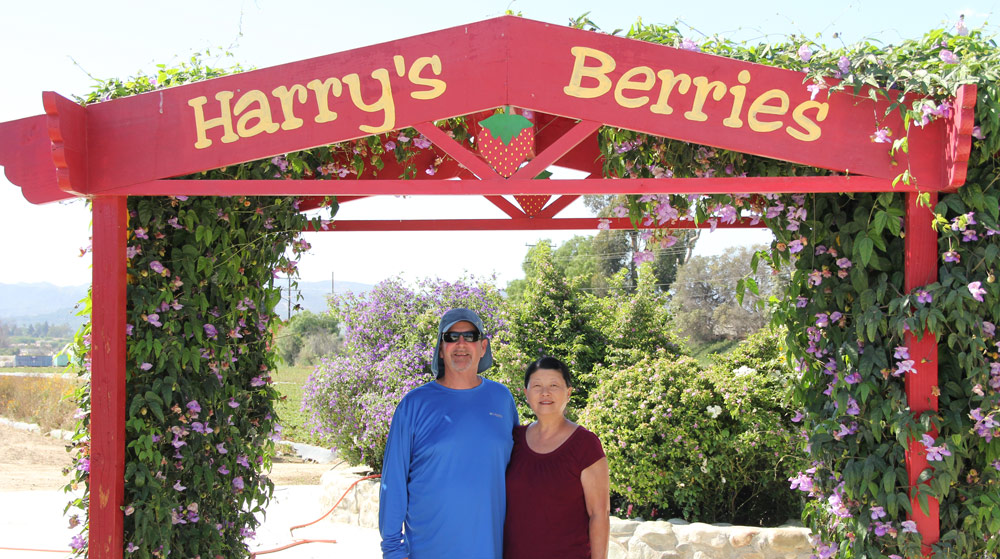 Today is California Strawberry Day, so naturally we're celebrating with our favorite (and arguably the best) strawberry farm anywhere in the state!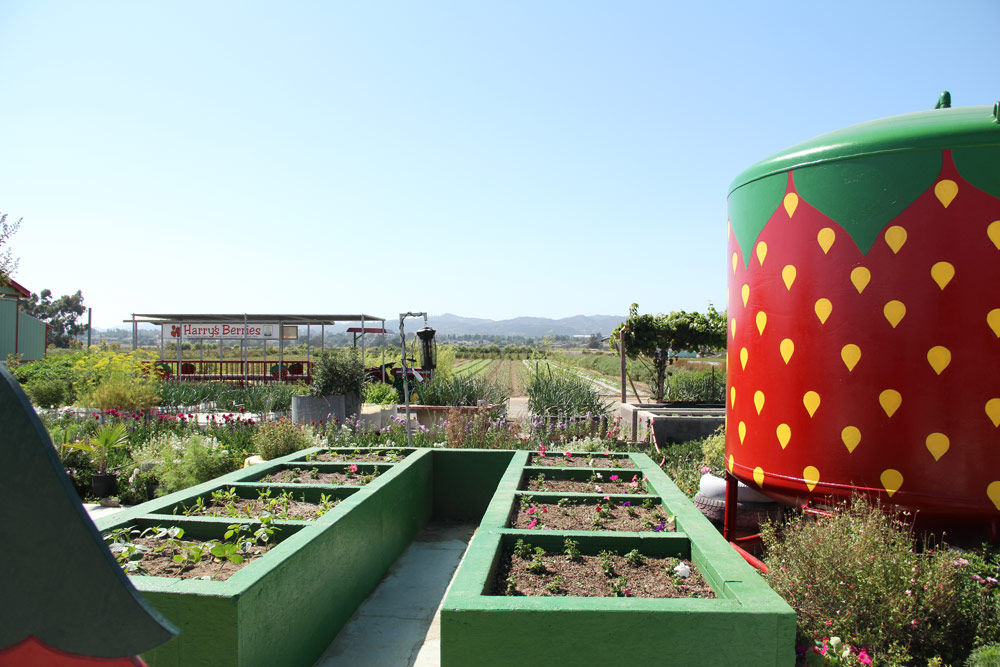 Harry's Berries is a family farm that is brimming with berries and personality. We were lucky enough to be invited by current owners Molly and Rick Gean for a tour of their farm, which is not open to the public. What we found there was an absolute treat as sweet as the berries themselves. 
We were greeted by Molly and Rick Gean and their two dogs, Gaviota and Seascape (named for two of the family's strawberry varieties). Gavy and See See, as they call them, were barking an awful lot at us intruders but were friendly as can be. "Don't worry, they'll only lick you to death," Molly told us.
This fun and funky farm is located in Oxnard, California, on the edge of the Oxnard Plain, along the banks of the Santa Clara River. Molly and Rick grow a variety of fruits and vegetables which they sell exclusively at certified farmers' markets in Ventura, Santa Barbara, and Los Angeles Counties. All of their fruits and vegetables are farmed using only organic practices, without any chemicals, fertilizers, or pesticides since 1988. But of all there fruits and veggie's it's pretty obvious no matter where you look that there is one item that comes before all the others. Strawberries.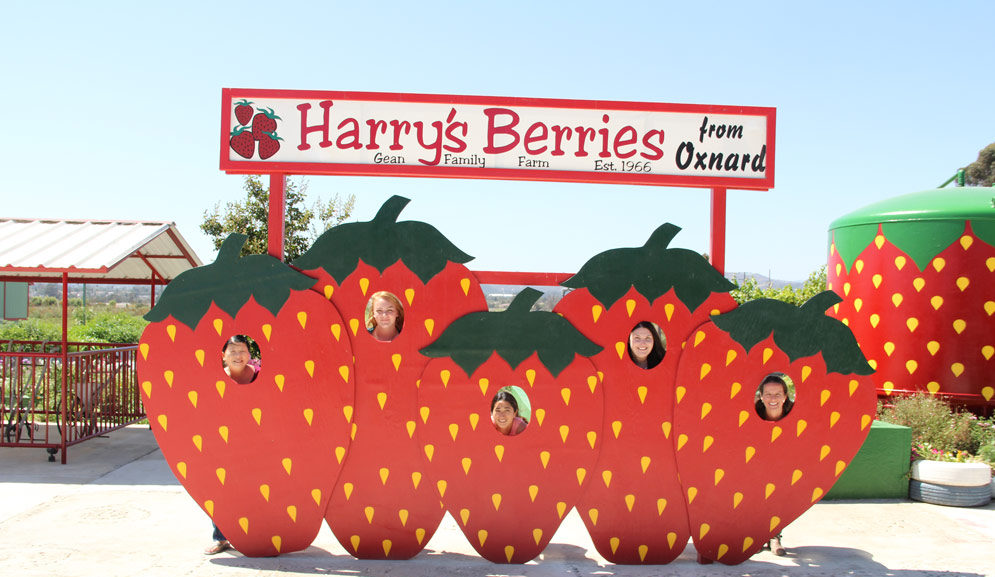 You may be thinking… who is Harry? Harry Iwamoto was Molly's father who started the farm back in 1967. Harry's agricultural roots run deep and it was important for him to continue working the land when he and his wife immigrated to the United States in 1958.  In Japan both Harry's and his wife's families were farmers going back many, many generations. But acquiring land in bustling Los Angeles was not easy for a new immigrant and Harry worked as a gardener in the Los Angeles area for nine years before he was able to move the family to Oxnard and begin their strawberry empire. He sold his berries through the usual wholesale shipping channels as well as at a roadside stand.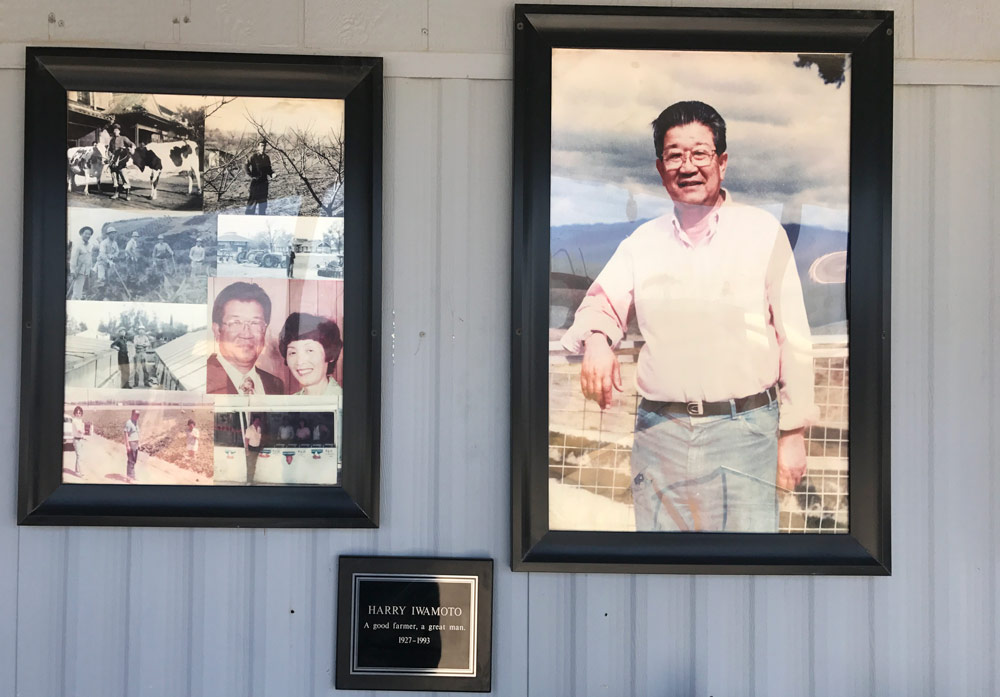 In 1986, as local farmers markets began to boom, the family began to travel the distance down to Los Angeles and Ventura counties for what they thought would be a supplementary sales outlet. But their reputation grew and grew, and their strawberries became a farmer's market favorite. But in 1993 the family lost their lease on their 100 acre farm to a water conservation project that turned it into a reservoir. They scaled back the farm and decided to cut out their wholesale business, focusing completely on the farmers' markets. Cutting out the middle-man ended up being the right idea! The family began to make a profit by selling directly to their adoring fans.  The family also sadly lost Harry that year, and the business passed to his son Kaz and daughter Molly.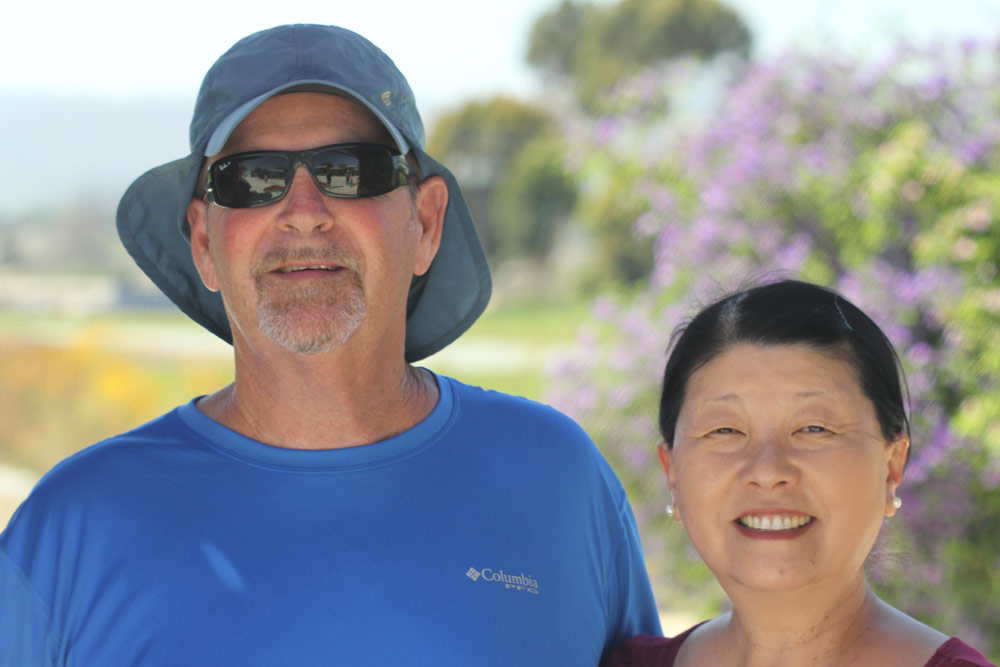 Today Molly and her husband Gean keep the farm in the family, running it with their children and their spouses and families. And while the strawberries are just as delicious as they always were… the farm has taken on a totally new personality thanks to Rick's "crazy-creative mind" as Molly calls it,
"we're definitely the only farm with an art department!"
"The art department is filled with really creative people, a lot of whom started out as ordinary farm-workers, but they showed that they had so much talent. One lady who does a lot of our detailed work told us she used to work in a nail salon. So our art department is very diverse!"
It would be hard not to fall in love with Harry's Berries farm with so many bright and creative creatures and colors all around you. The good will and good vibes fill the air as you slowly take in what has clearly taken generations of hard work and a lot of love.
"It's Junk Art!" Molly explains to us, although it needs no explanation. Bits and bobs of ordinary farm life have been transformed into bees, spiders, sunflowers, ants, butterflies, and of course strawberries, all over the farm. [Check out the gallery below!] But it's not just art that gets repurposed here, everything from the trashcans to the flower beds to the decor are all recycled!
[envira-gallery id="5423″]
"We recycle everything. So the planters are made out of tires, jacuzzis bathtubs, you name it. So when we need to buy a new pickup truck to take to the market, you know we have to convert it to have a box in the back, which we do here, but the cab is extra. So it becomes flower beds."
After getting the museum tour of fine art we move out to the strawberry fields to see where the magic happens. Molly explains that unlike commercial growers who grow from December to June, growing a single crop for six months and that's it, Harry's Berries never sleeps. "We grow different varieties, so we can grow year round. We don't grow the same type of strawberries as commercial growers at all." And that's obvious to everyone who has ever had the pleasure of tasting them. One bite and you realize you've never tasted a real strawberry before that moment. They are so good, so small, sweet, and pure, they are truly Mother Nature's candy. 
We're lucky enough to venture out into the fields ourselves and pick a few. Rick tells us to snap them off their vines instead of plucking, which damages the cooling mechanisms of the plant. Who knew?! Excited for strawberry season to begin, we ask about their system and how they manage to grow all year.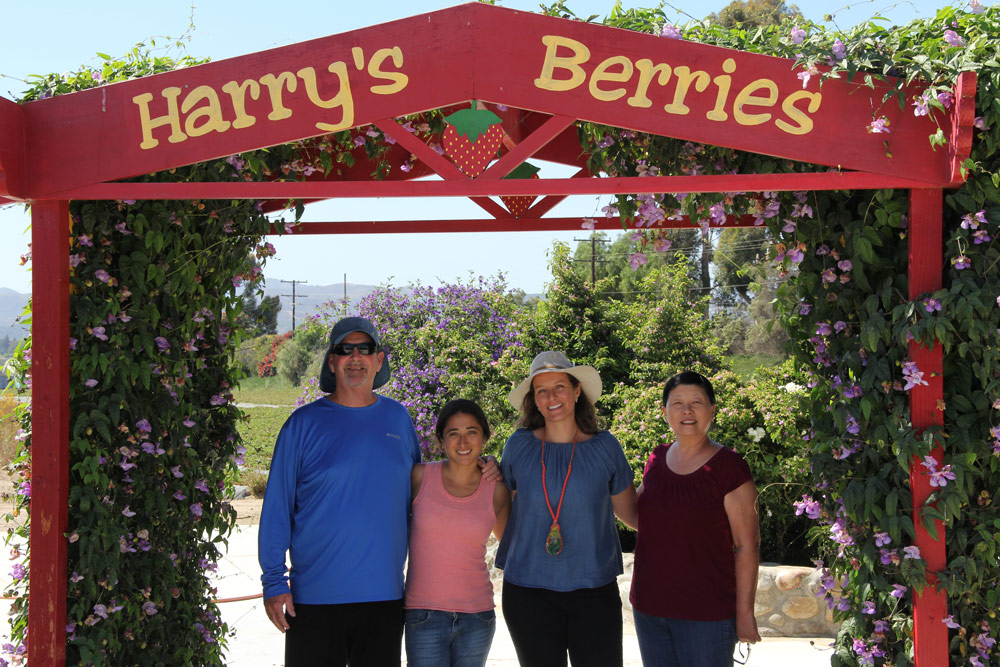 The answer?
"Replant every year. But we leave a few sections that are still producing fruit, even though it's not much, just so we can continue. Those plants will be in for about 18 months before they get turned around. Until the new harvest comes in. We plant the new crop in October and they're usually really ready in February and March. December there is still a few left over from the previous year, but January is slim pickin's."
"That's when I have to come an hour early" cries out our produce buyer, who has a long relationship with the Gean family. "To wait in the long line!" She is very familiar with those December/January lines at the Harry's Berry stands on Saturday mornings in Santa Monica. But it's not just our produce buyer who has to wait in line. Top chefs from all over the world know about Harry's Berries and everyone has to wait their turn.  No special treatment.
"Everyone does!" Replies Molly. "We actually have a picture of Wolfgang Puck waiting in our line! He buys them for his kids." There can sometimes be up to 100 people waiting in line and sometimes they sell out only in a few hours. It is sad for the hopeful customers that didn't get any strawberries, but Molly says her son Chris loves the short work hours!
Molly tells us that not only does love that she gets to work with her children everyday, but all her children and seven grandkids live either on the property or across the street.
"As a grandma, it's a dream I never dared to dream!"
We spent such a lovely day out in the sun at Harry's Berries and hope you enjoyed coming along for the ride! Please be sure to enjoy the gallery below to see all Rick's awesome art and Molly's beautiful decoration of their amazing family oasis.