LAist sings FarmBox praises and tells you how it works
[shareaholic app="share_buttons" id="27983777"]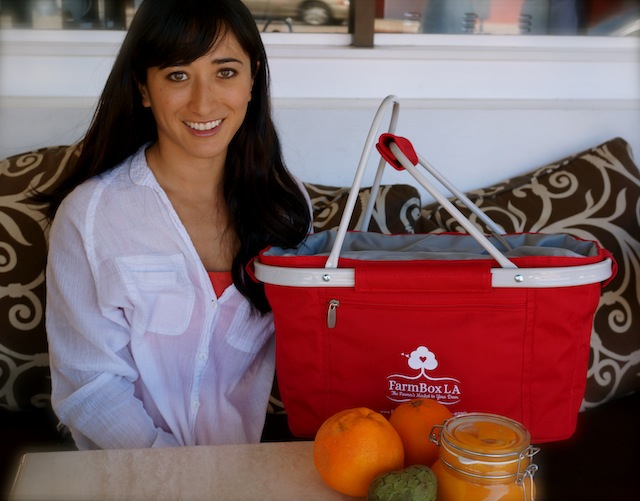 Farm Box LA: Bringing the Farmers Market to Your Door
By Krista Simmons on April 19, 2013 12:30PM
A new breed of CSA called Farm Box LA is bringing baskets bursting with local produce harvested at local farms to your door. And instead of working with just one farm like a traditional CSA, they cultivate relationships with several area farmers and pick the best for your delivery each week."
We team with about 40 different farmers, producers, and artisans," says Chako Fairbanks, one of the company's founders. Fairbanks started Farm Box LA with her friend Reisha Fryzer, after quitting her job in marketing. Now instead of sitting behind a desk, she finds herself visiting the farms they source from on a weekly basis.
Here's how it works: Each Sunday morning at 6 a.m., Farm Box's partner farmers from around Southern California drop off their produce, which was usually harvested on Saturday, at the FarmboxLA warehouse space downtown. (They share the area with Weiser Family Farms, our favorite purveyor of heirloom potatoes.) The goods are then divvied up into their signature red baskets, and then delivered by noon to their 350 or-so customers throughout L.A. They plan on expanding the concept to San Francisco this summer.
"When we first set out, we were worried that it'd just be this upper eschalon of wealthy people ordering our baskets," says Fairbanks. "But we're finding that it's your average 25 to 35-year-olds who are curious about cooking and who really care about where thier food comes from."
Of course, quality local produce does come at a cost. The Farmboxes go for $52 for a small box, which feeds 1-2 people; $77 for a standard box, which is geared more towards families or for a couple who is cooking every night; and the $102 large box for a large family who really gets down in the kitchen. Subscribers can also make their box "complete," which means you'll get bread, juice, cheese, jams, and nuts, basically making it so that you don't have to make a trip to the grocery store during the week.
There are some unique offerings too, like the beauty box or the juicing box. They also have intelligently partnered up with various Crossfit gyms across town to offer a paleo box, which focuses on protein and veggies for those on the new, ever-so-trendy diet. The baskets are very customizable, and you can add in things like olive oil, Rockenwagner baguettes, or cheese individually, too.
With our first box, we got all kinds of crafty, making everything from pickled purple carrots to an apple galette. Since we cook on a nightly basis for various eager eaters, it was easy to breeze through a box in a week. The folks at Farm Box aim to make the task of working with some lesser-known products like cherimoyas or celery root easier by including a weekly newsletter with recipes in their boxes. "You don't have to be an amazing cook to make good food," says Fairbanks. "If you have really awesome ingredients, the job is pretty easy."