The WSJ uses FarmBox for their LA Farmers' Market to Your Doorstep
[shareaholic app="share_buttons" id="27983777"]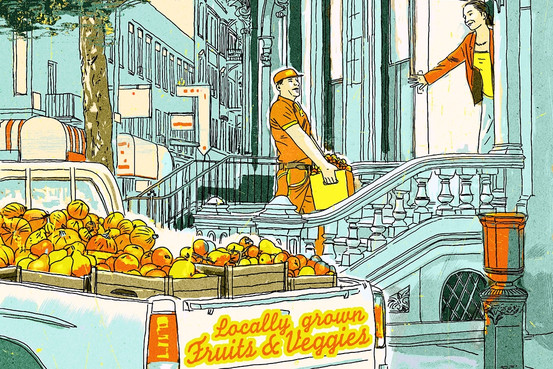 THE WSJ/CRANKY CONSUMER
Bringing the Farmers' Market to Your Doorstep
By Kimberly Chou updated February 3, 2011 12:01AM
In deep winter, the greatest challenge for a committed locavore may not be coming up with yet another way to eat root vegetables, but the icy slog to the farmers market. Luckily, there are a number of services that deliver organically and locally grown fresh fruits and vegetables.
With community-supported agriculture programs (CSAs) and farmers markets rising in popularity, farm-to-kitchen-table eating has never been easier. As of last year, the U.S. Department of Agriculture recorded more than 6,100 farmers' markets across the country, up from 1,755 when it first began tracking the markets in 1994.We tested companies in four cities to check out their promises of "local" and "organic" produce. With each service, we chose the standard size order, which amounts to a week's worth of fruits and vegetables for a two-person household; and we specified the "seasonal" or "local" box when available.
In Los Angeles, we signed up for Farm Box LA, requesting the produce be left on the porch in case we weren't home. Farm Box bills weekly through PayPal, but you can ask to pay with cash or check. We emailed to ask if we could use American Express instead and owner Reisha Fryzer emailed back to confirm and called to set up our account.
After the first delivery, customers are encouraged to put a $50 deposit on two reusable containers that get swapped out with each delivery. Ms. Fryzer said that since she was making extra deliveries the next day, she would drop off our produce in paper bags.
The fruits and vegetables arrived for the most part in top condition. A trio of sweet, funny-shaped kiwis, two large Asian pears, multicolored fingerling potatoes and a kohlrabi—common in Kashmir but sometimes difficult to find in L.A.—were part of the mix. However, the lettuce had to be thrown out after wilting in the sun between its morning delivery and the time we came home that evening.
There was no information about where the produce came from in the bag, though on the Farm Box blog Ms. Fryzer lists the farms she buys from each week at farmers' markets in Hollywood. She said the yet-blank "Farms" section of the website will soon include photos and information about the farms. The website includes recipes and news about different produce. Farm Box offered more bonuses than any of the other services: They will take any unused produce to a local food bank or farm to use as compost; or they'll jam or pickle it for you for $10 a jar.
In New York, we ordered from Urban Organic, a Brooklyn organic-produce delivery service, that says on its website says, "We try to give our local farmers as much of our business as possible." But the standard box included items like bananas and citrus, which clearly didn't come from anywhere nearby, and beets from California. Owner Charles Pigott said our delivery arrived during a week of heavy snow, which resulted in substitutions for local items. Usually Urban Organic buys from farms like Lady Moon in Pennsylvania for its leafy greens; kale that week came from Joe Heger Farms in California, Mr. Pigott said.
For delivery, we gave instructions to get the employees at the shop next door to unlock the entryway of our walk-up. Another option: Some customers mail in an entryway key. Delivered in a cardboard box, the soft greens (lettuce, spinach) appeared a bit frost-bitten from the cold, but the hardier stuff (oranges, apples) looked market-ready. Tucked into the box was a newsletter with a list of the week's produce, news and recipes.
With the $25 membership fee and varied delivery charges ($1.99 for Brooklyn and Manhattan, but up to $4.99 elsewhere), Urban Organic isn't the service to try if you aren't a regular produce eater. There's a $1 charge for substitutions. But referrals are rewarded with a complimentary box.
In Chicago, we ordered a box of mixed fruits and vegetables from Irv & Shelly's Fresh Picks and via the website, included a $4 tip for the delivery person. The produce arrived in a Styrofoam cooler, inside a larger plastic bin with an ice pack to keep the produce cold. Irv & Shelly's promise organic produce and local produce in the months when that's possible, and the box—heavy on root vegetables—reflected that. Most of the produce came from Wisconsin, Illinois and Michigan. The collard greens were from California, and the bananas from Colombia. A printout in the box listed the items in it, and another had preparation tips, plus a list of participating local farms. Owner Shelly Herman said the company works with more than 100 local farmers, and uses an organic broker for produce outside the region. She said they offer bananas from South or Central America and avocados year-round, in hopes that customers won't make an extra trip to the grocery store for them and use more gas.
Again, there was a tricky apartment situation: The building's entryway door was locked and the driver hid the box in a gangway on the side of our building, leaving us a voicemail. The tips of the collard greens were slightly frozen after sitting outside in the cold.
Our Seattle delivery from New Roots Organics arrived in a large storage bin lined with food-grade cardboard. All the produce was loose, except for a bunch of carrots and a plastic pint container of mini peppers. Spinach and chard came bundled but un-bagged. Pears weren't quite ripe, which was nice as we could eat them later in the week after finishing the other fruit.
Prices rose by $4.50 a box, effective this week, but we found the volume of food still reasonable for the price. (We paid $35 for a box now priced at $39.50). Consumers can set preferences (i.e. ask the service to never deliver certain produce items) and also swap out up to five items per order.
A flier in the box listed contents and weight, which helped us spot a glitch: We were supposed to receive four Pink Lady apples, but got Gala instead. We considered this a minor problem, however.
Though New Roots stresses local and organic sources of food, the literature in the box didn't indicate where the fruits and vegetables actually originated. The site says produce comes from California, Oregon, Washington, and sometimes, Mexico. It also offers a link to four provider farms in Washington state explaining what those farms grow. New Roots says it sources through one wholesaler in Washington state and one in Oregon, which buy from networks of local farms, through farm cooperatives and direct from the grower.
Owner Carolyn Boyle says in winter it's difficult to pinpoint for customers the exact origin of produce, since some farm partners and distributors operate multiple orchards, but in summer, New Roots tries to be more specific about origin. In the future, she says, her service may also offer organic honey and eggs.
—Lori Barrett, Jane Hodges and Priyanka Mattoo contributed to this article.