"Let food be thy medicine, and let thy medicine be food." -Hippocrates
[shareaholic app="share_buttons" id="27983777"]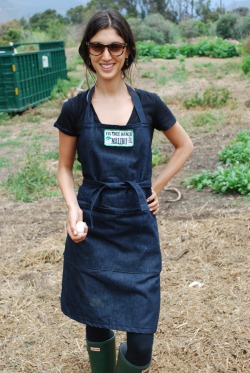 MY L.A. LIFESTYLE/VEGAN
"Let food be thy medicine, and let thy medicine be food." -Hippocrates
By Laura Pardini on October 13, 2011
I first saw Reisha Fryzer at a Daisy Swan "Entrepreneur" seminar featuring a select group of independent business owners. I was there that night because our very own talented Travel Expert writer; Natalie Compagno, was one of the guest speakers along with Reisha. I thought Ms. Fryzer's business was unique, globally conscious and helped to fill a very important piece in a person's life: a balanced and nutritious diet. Here is our interview with Reisha Fryzer, Owner of Farm Box LA. Enjoy!
1) Tell me about your business?
My business is called Farm Box LA. Every week, I deliver to your door a Farm Box full of a wonderful variety of freshly picked produce that I personally select from local farms and farmers markets. There's nothing better than eating food that tastes the way it's supposed to – as if just harvested from the earth! Along with the Farm Box, you can check my blog and receive weekly recipes to go along with some of the Farm Box week's produce.
2) How did you get started?
I was living in Malibu and discovered Vital Zuman Farm and began to work there as a volunteer. I then began learning my way around other local farms and farmers markets. A logical next step was to learn how to make the best use all this freshness, so I earned my chef certificate at the Epicurean Culinary School in West Hollywood, and supplemented that with vegan cooking classes. With all these tools at my fingertips, it made sense for me to turn my love of agriculture and the slow food movement into a business that could bring this healthy way of eating to my neighbors in Los Angeles. That was the start of Farm Box LA. I created the company to share my love of eating fresh, healthy, seasonal, organic, pesticide-free produce with my fellow Los Angelenos who would love to eat that way too. And probably would, if they had the time to visit farms and farmers markets often enough to make sure they always have an abundance of the freshest, best produce possible. Not to worry. Farm Box LA will bring the farm to you.
3) Can you discuss the importance of supporting our local farmers?
Yes Yes Yes… To start with, our topsoil is depleting at a rapid rate. And it takes 500 years to restore just 1 inch of lost rich topsoil!! I also believe in supporting our local economy. We have plenty of land and unemployment to grow and eat all our food. Why would we want avocados from Mexico when we have the Best avocados in Southern California. Also it is important that we create a beautiful world for our future generations to enjoy!
4) What do you consider the best things to do in Los Angeles?
Going to any Farmers Market and buying fresh what I need for the days meal! I love engaging in conversations with the farmers. Each of the farms' produce variety can change a bit each week, so its good to ask them questions. I lived in Paris a few years ago and found it amazing how the Parisians shopped daily for their produce and each home only has a small fridge (and usually no freezer). I didn't want to lose this lifestyle. And well if you can't make it to the farmers market, that's where my company Farm Box LA comes in.
I also enjoy going for a bike ride on Malibu Road and swimming at the small public beaches on the road and then lunching at Malibu seafood (which is only a short bike ride away).
Waking up and attending Tej's, 9am Kundalini Yoga class at Golden Bridge.
Walking my dogs at Griffith Park.
Vegan Cooking classes with the Spork Sisters & Zuddha girls.
Lastly, starting my day planting and harvesting fruits and vegetables in my backyard. We are so lucky in Southern California to have great weather and can grow produce all year long. A small garden on a balcony or backyard will provide you with not only delicious treats but a great education!