KCET uses FarmBox produce for their Quick Pickled Vegetables recipe
[shareaholic app="share_buttons" id="27983777"]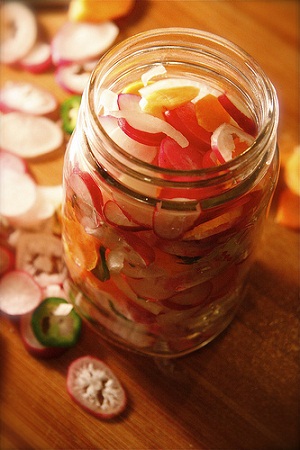 KCET/THE PUBLIC KITCHEN
Recipe: Quick Pickled Vegetables from Farm Box LA
by Siel Ju on March 9, 2011 9:00AM
Shopping at the farmers market can be a dangerous affair — simply because all the fresh, in-season produce looks so tempting. If you bought a rolling cartful of fresh veggies with the full intention of enjoying crudités as snacks all week — but already feel daunted by all the crunchy fare — Reisha Fryzer can help.
Reisha's the owner of Farm Box LA, a newish organic produce delivery service that brings hand-picked items from local farmers markets to your front door. For $50, Reisha delivers a reusable boxful of what's good at the market — with enough produce to feed one or two people for an entire week.
Of course, customers' healthy eating habits get derailed at times — which is why Reisha, who holds a chef certificate from the Epicurean Culinary School in West Hollywood, also offers a pickling and jamming service. Unenjoyed fruits and veggies can simply be placed back in the delivery box to be picked up — and turned into locally-made jams and pickled veggies for $10 a jar.
Try your hand at pickling your own veggies with Reisha's recipe. She recommends using firmer vegetables — such as carrots from Finley Farm or fennel bulb from Tutti Frutti Farm — and having fun with the recipe by swapping out spices or vegetables.
Quick Pickles
Ingredients:
4 carrots, peeled and thinly sliced
1 1/2 cups apple cider vinegar
2 tablespoons sugar ginger, small piece julienned
1 cinnamon stick
1 teaspoon whole black peppercorns
1 teaspoon coriander seeds
pinch of salt
Instructions:
Place carrots upright in a large picking jar or a few small jars and set them aside. In a medium saucepan heat the apple cider vinegar, sugar and desired spices and salt over medium heat until simmering. When liquid is about to boil, pour it over carrots. Let it cool and then seal and store in the fridge for up to 3 weeks submerged in the liquid.