How To: Use Wilting Herbs To Make Infused Olive Oil
[shareaholic app="share_buttons" id="27983777"]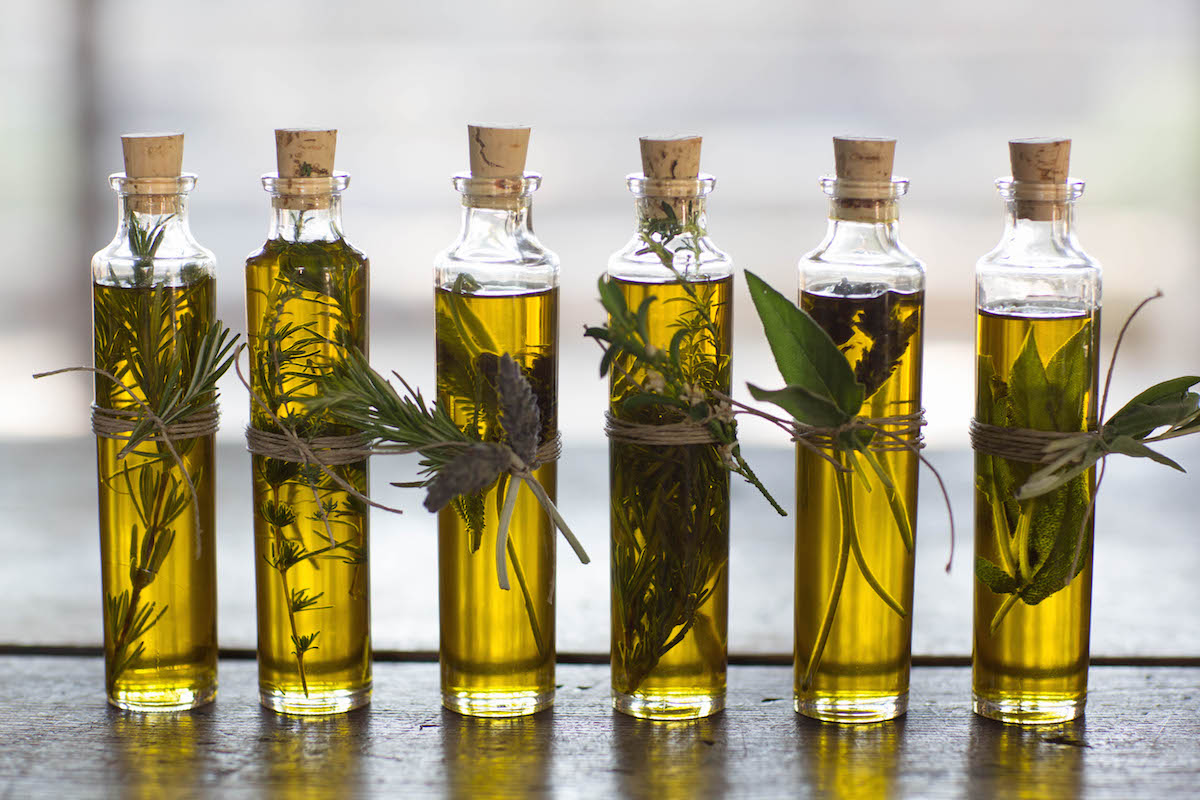 We've all been there: that bunch of thyme from last week's produce haul was used in just above every dish we could think of and yet still we ended up with half of it that needs to be used today. Or perhaps you found a few cloves of garlic that are on their last legs that got forgotten about behind the other alliums? Have no fear, olive oil is here! No citrus, herb, or allium need go to waste with all of the infused oil combinations you could make.
Infusing olive oil is an amazing way to not only spice up your kitchen but also make full use of every piece of fresh produce you buy, so grab a knife and let's get cooking.
What to Infuse
It's pretty hard to go wrong with what to infuse. And don't sleep on the combos. Try rosemary garlic, thyme lemon, or toss in a variety of leftover herbs for a bouquet of flavor.
Here are our three favorites:
Herb Infused Olive Oil
The instructions for herb infused olive oils are easy – blend, cook, strain, strain again, and let rest. For woody stronger herbs (think rosemary or thyme) use a 2-1 ratio for herbs to olive oil. For softer herbs (like parsley or basil) flip the ratio for a 2-1 olive oil to herbs. Roughly chop your herbs and set aside. Bring olive oil to a slight simmer in a pan for just under a minute. Add herbs to olive oil and let steep for two minutes. Strain herbs from oil, pop into your storage container, and voila.
Herbed olive oil lasts for about two weeks, so make batches small enough to last no longer than that.
Garlic Infused Olive Oil
For a roasted garlic flavor, remove skins on four cloves of garlic. Place ½ cup olive oil in a small saucepan with garlic cloves and slowly heat the olive oil on very low, making sure to watch it carefully after 15 minutes, so the garlic cloves don't burn. Simmer for 30-35 minutes, or until the garlic cloves are a light golden brown. Remove from the heat and smash the garlic cloves lightly with the back of a spoon. Let the olive oil cool with the smashed garlic cloves for another 30 minutes.
Strain the garlic-infused olive oil through a fine sieve before funneling into your storage container. The garlic-infused flavored oil can be refrigerated and stored for up to a month, but make sure to watch freshness after the two week mark.
If you prefer the flavor of raw garlic, simply do a rough chop of your cloves, add to olive oil, and store in a dark place for one week. Check the flavor to see if it has reached the desired potency. If so, strain and use. If you prefer a stronger flavor, store again, checking potency every few days.
Watch our kitchen pros show you a few other ways to use leftover garlic and onions.
Citrus Infused Olive Oil
For citrus infused olive oil, make sure to give the fruit a REALLY good scrubbing. You will only be using the zest for your infusion, so you don't want any residues usurping the flavor profile. Zest your citrus in long strips, remembering that the zest is only the bright colored skin on the outside of the fruit. Once you hit the white inner skin, you've gone too far and your infusion will become bitter. Heat zest and olive oil in a pan, keeping the heat below even simmering temp for about ten minutes. Remove from heat and strain out your lemon/ citrus/ grapefruit zest. Citrus infused olive oil will be ready for immediate enjoyment once room temperature
How To Store Infused Olive Oil
Infusing olive oil does shorten the shelf life of an olive oil. Think of using (or freezing) your infused olive oil within 2-3 weeks. You don't need a fancy bottle to store your infusion. You can use any glass storage dish or mason jar for storage. However, the darker the glass and smaller the opening, the longer lifespan your infused oil will stay fresh. Store in a dark place (think, inside of a cupboard as opposed to on the counter by the window) for maximum freshness.
As you finish a bottle of olive oil, store the cleaned bottle for later use in storing your infused oil creations.
How To Use Infused Olive Oil
There is (almost) no wrong way to use an infused olive oil. Use it straight from the bottle to dip bread in. Drizzle it over leafy greens for a salad that pops. Toss chopped veggies in it before roasting. You can even use it for your morning scrambled eggs to up the WOW factor on this breakfast classic. Use infused oil in place of plain olive oil to add instant pizazz to any dish. Infusing olive oil brings forward the flavors of whatever you have infused, so it's like a two-for-one flavor addition.
Chef's Tip: Drizzle infused olive oil over bread for the last few minutes of baking for an extra golden crust and hint of flavor.
One of our favorite recipes using garlic infused olive oil is for Zhoug. Just remove the garlic, and substitute your garlic-infused oil for the plain olive oil.
*Extra Credit*
If you have way more herbs, garlic, or citrus to use, you don't need to use it all at once.
Do a rough chop of your herbs or alliums, or zest your citrus. Mix with olive oil and fill an ice cube tray with multiple combinations (rosemary lemon olive oil anyone?!). Remove from ice cube trays, label, and store frozen in an air-tight container for later use. Pop a cube into your pan as needed or defrost if using for a dip or dressing. Extend the life of your herbs by tenfold in just a few minutes of experimenting in the kitchen.