How To Adjust Substitution Preferences
[shareaholic app="share_buttons" id="27983777"]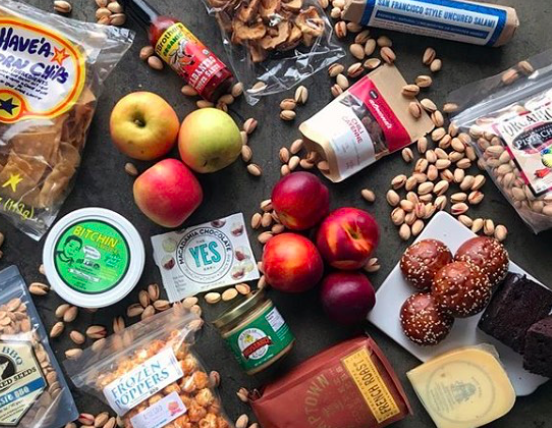 Scene: Saturday night, around 2am. GrubMarket warehouse, somewhere in the LA area.
Employee #1 (also known as Superhero #1) packing customers' grocery orders to be delivered in just a few hours: "Hey, this customer has no substitutions listed as their preference on their account. I really want to get this customer the baking powder they ordered, but the Bob's Red Mill brand is out. I have Pamela's brand baking powder here, can I substitute it for them? I'm sure they would understand!"
Team Leader (also known as Superhero #2): "No, unfortunately no substitutions means no substitutions. You'll have to set the baking powder down and send the order without any baking powder".
This scene is sadly all too common as our team of superheroes tries to get our customer orders prepared.
Unfortunately, during this unprecedented time, food brands are experiencing greater than normal demand and won't be able to keep supply up to this demand. So, as a team, our buyers (aka the true MVPs) work very hard to find alternatives for our customers. Our team has the deep desire to fulfill your grocery order as much as feasibly possible, so have created three substitution preferences you may set in your account. During this unique pandemic, we suggest taking a look at your substitution preferences in order to allow us to deliver as much of what you've ordered as possible.
How GrubMarket Orders During Covid-19
For fresh produce and artisan items, GrubMarket has continued to order direct from producers as you order. This allows you to receive the most farm-fresh items, while eliminating the level of food waste that traditional grocery stores create. During Covid-19, availability of these fresh items has not been severely impacted, so our buying team continues to procure these items in the same way.
For shelf stable items (like flour, paper towels, canned goods or pasta), Covid-19 has greatly increased demand on these items. At times, our buying team may not be able to get the exact brand or items you requested. Our MVP buyers work very hard to find good alternatives in order to get your order fulfilled.
What Different Substitution Preferences Mean
No Substitutions: If your account preference is no substitutions, our team will fill your order only with the exact item. During Covid-19, this may result in multiple items in your order not being filled. Even if we have an almost identical item on our shelf, like Organic Valley Sour Cream for Clover Organic Sour Cream, if it is not the exact item you ordered, "No Substitutions" account preference tells our team to opt to instead short your order for this item.
Like Items Only: "Like items only" account preference tells our team that we can substitute your ordered items ONLY with very similar items. Some examples include a difference in how your paper towels are packaged (but not quantity), a farfalle instead of penne, black kale instead of green, or a difference in brand for your organic yogurt.
Yes, Substitutions Allowed: This option allows our team to make judgement based calls on good substitutions for your order. Perhaps you ordered a La Colombe Mocha Latte, but the only remaining option is a La Colombe Caramel Latte. Saying "yes substitutions allowed" will tell our team you are open to this option. The "Yes" preference on your account allows our team to fulfill the maximum items in your order possible during this unprecedented time. To make these judgement based calls, our team looks at what an item is conventionally used for and tries to fill based on that. These judgement-based decisions will respect dietary restrictions (ie gluten-free, vegan, chicken only etc), but may substitute based on flavors. You will never receive a substitution such as steak for chicken. Even "Yes" still means the substitution must be similar.
How To Adjust Your Substitution Preferences
1) Sign in to your account at the top of the homepage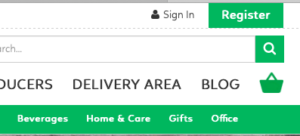 2) Select "Preferences" on the left hand menu of "My Account"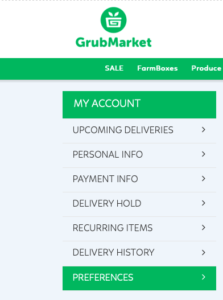 3) Click in to the "Substitutions Ok?" drop down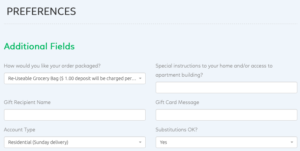 4) Select your updated substitution preference. *Tip*: We recommend selecting "yes" so as to allow our team to fulfill your order as fully as possible.