Customer of the Week: Emily T.
[shareaholic app="share_buttons" id="27983777"]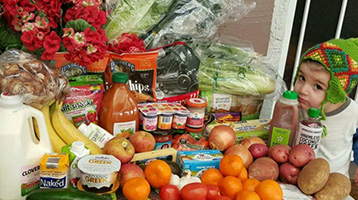 We are thrilled to share a brand new customer testimonial with you from a dedicated customer in Dixon, California named Emily. Read below to hear how she's enjoying her experiences with GrubMarket!

GRUBMARKET: How did you hear about GrubMarket in the first place?
EMILY: I first heard about GrubMarket from a friend in my Facebook group that is for like-minded moms. She mentioned the great prices on organic food and household items. It was a great find because unfortunately healthy living is EXPENSIVE!

GRUBMARKET:What are your favorite GrubMarket items to order?
EMILY: We have so many favorites but the produce is always fresh and tasty. The items that I love personally are the Artisan items. My 3 year-old son loves the Hidden Orchard Apple Cider and Orgain Strawberry Protein Shake.

GRUBMARKET:What are your favorite dishes to cook withGrubMarket items?
EMILY: My family of 3 enjoys the Hip Chick Chicken Meatballs, PanzaniTorti pasta, crimini mushrooms and yellow onions. I cook the pasta in chicken stock so no sauce is needed. It's a light pasta dish and so delicious!

GRUBMARKET:Can you tell us a bit more about the "GrubMoms" group?
EMILY: The GrubMoms Facebook group was created with my goal to expand the GrubMarket delivery to my area and to have my local friends and family stay on top of tips and info regarding GrubMarket. It is a great place to find out if the delivery guys are in our area, to share recipes and to make suggestions on improving the GrubMarket experience.

GRUBMARKET:What new items would you like to seeGrubMarket offer?
EMILY: Well, my goal and I believe every mom's goal is to make that long list of to-dos and tasks a little less stressful. We all would love it if we didn't have to go to the grocery store EVER! I work across the street from Safeway and although convenient, I chose healthier food for my family. On that note I'd love more household items and pet items to chose from. I can tell you what I drive 20 minutes for (DAVIS Whole Foods) and would love to buy from you are Pacific organic black beans, grain free dog food and Seventh Generation training pants. It would make life so much easier!
Thank you GrubMarket for all you do for the local farmers, small business owners and for the families who chose to feed their families healthier food or who have dietary issues.
(In photo: Emily's son enjoying all their goodies!)