Feature: Interview with One Ocean Seafood
[shareaholic app="share_buttons" id="27983777"]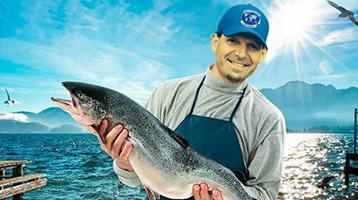 We're thrilled to do a special feature on a California-based seafood company called One Ocean Seafood. They have a wide range of amazing products including fresh Salmon, Alaskan Cod, California Halibut & more! We recently sat down with Patrick Guyer from One Ocean Seafood, who answered some questions for us about his business, which is based in San Francisco, California.
GRUBMARKET: Tell us a little bit about your business.
PATRICK: I'm a fishmonger, every morning I collect fish from Pier 45 seafood importers & wholesalers to fill the days orders. I sell at farmers markets, offer home delivery and oysters parties. I offer every seafood product imaginable, keeping customers informed of availabilities through a weekly newsletter. My dream is to open a fish market/oyster bar.
GRUBMARKET: Did you always know you wanted to have a family business?
PATRICK: I didn't know at all but my father always worked for himself, so I must have that same entrepreneurial gene.
GRUBMARKET: What inspired you to start it and what are some of your core values?
PATRICK: I learned how people appreciate good fish from working 3 years at farmers' markets with another similar business out of Half Moon Bay. My core values are quality, transparency, accessibility, fairness & environmental responsibility.
GRUBMARKET: What is the key to success in your eyes?
PATRICK: Success for me comes from supplying a highly perishable product as fast as possible, to set myself apart from the norm.
GRUBMARKET: In what ways do you interact with the community/give back?
PATRICK: I have an open forum for questions through my newsletter and am involved with Monterey Bay Aquariums Seafood Watch Program.
GRUBMARKET: What is your most popular item?
PATRICK: Fresh Wild Local King Salmon is the best & most popular.
GRUBMARKET: What are you most looking forward to working with GrubMarket?
PATRICK: I'm excited to grow with GrubMarket. We are both young businesses with great services to provide, so I'm confident in our future success together.
GRUBMARKET: What is your favorite food (besides your own product)?
PATRICK: Pizza, of course…or pupusas…I eat a lot of cucumbers too.