Exclusive Interview with Mike Xu, CEO of GrubMarket with Produce Blue Book
[shareaholic app="share_buttons" id="27983777"]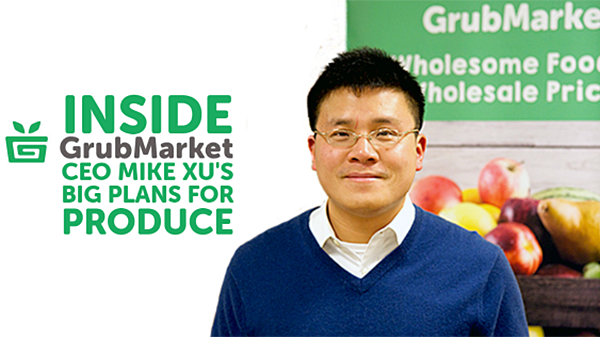 You're not alone if you've seen all the acquisitions made in the past few years by GrubMarket and thought, they must have big plans.
Mike Xu, CEO of GrubMarket, says GrubMarket has huge plans for the way we buy and sell food. The ultimate goal is that GrubMarket eventually grows to more than $100 billion in annual sales. In just a few years, GrubMarket has raised more than $200 million in capital, and Xu said it has a market evaluation over $1 billion, and it's turning a profit, with an initial public offering in the near future.
What is GrubMarket?
A virtual unknown in the produce industry, GrubMarket is a food technology company with a proprietary e-commerce software called WholesaleWare.
GrubMarket's B2B customers include tens of thousands of grocery stores and restaurants. Whole Foods, Kroger, Albertsons, Safeway, Sprouts Farmers Market, Raley's Market, 99 Ranch Market are all among its retail customers. Its meal-kit and e-grocery customers include Blue Apron, Hello Fresh, Fresh Direct, Imperfect Foods, Misfit Market, Sun Basket, and GoodEggs, and GrubMarket does food delivery itself, but it's not a large part of the business.
It's been on an acquisition streak in recent months, having bought Sierra Produce, one of the largest importers of South American fruits; Texas produce wholesaler RJ Produce, and Bengard Marketing, Inc., one of the largest importers of South American stone fruit, among other items, just this year — with others awaiting formal announcements.
So, why fresh produce?
GrubMarket acquires produce companies for several reasons. First, it wants to acquire traditional businesses to bring them into the company's software and digital business and transform them from inventory to procurement to customer management to logistics.
"It's an older industry that is mostly offline and we want to bring e-commerce and digital solutions to the business," he said. Second, he remarked that he and his partners are relatively new to the produce business, and making acquisitions allows them to see how they operate and how GrubMarket's software can benefit them and improve efficiencies.
GrubMarket's most recent acquisition expands its influence even more. Just last week it announced it acquired Pacific Farm Management, a full-service farm management services company – one of the largest providers of agricultural employment and workers compensation insurance services in California with additional customers in Oregon and Arizona.
"We wanted to work more directly with farmers and know them better and how our e-commerce system can work better with them," said Xu. GrubMarket has acquired dozens of produce and meat companies and now operates in California, Washington, Texas, Michigan, New York, New Jersey, Missouri, Massachusetts, Oregon, and Arizona, with plans to expand to other parts of the country. Xu said with all the acquisitions of produce companies, he plans to be more active in the fresh produce industry, including attending trade shows such as this week's PMA Foodservice Expo in Monterey, CA. 
"Our angle is to bring software and e-commerce technology to digitally transform the industry, the entire supply chain, from the first mile to last mile. We know we have a lot of things to learn [about fresh produce] and we want to be humble."
Read the original article here: https://www.producebluebook.com/2021/07/21/the-strategy-behind-grubmarkets-acquisition-binge/