GrubMarket Makes Silicon Review's "50 Best Workplaces of the Year 2022"
[shareaholic app="share_buttons" id="27983777"]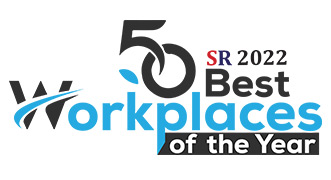 GrubMarket is honored and thrilled to announce that we have been selected by The Silicon Review as one of the 50 Best Workplaces for 2022.
The Silicon Review Magazine ranked the 50 best workplaces of the year for 2022 and GrubMarket is proud to have made the list as a "revolutionary on a mission to digitally transform the American food supply chain industry".
GrubMarket was recognized for its unique and collaborative culture, as well as the supportive community-driven environment we've built for our employees. Our CEO, Mike Xu, was interviewed by The Silicon Valley Review, where he shares his thoughts on why people enjoy working at GrubMarket and what our future holds.
"We have developed an environment at GrubMarket where team members can get to know each other at a personal level, and to cultivate understanding between each other, because we know that teams perform better when there is a foundation of trust, care, and camaraderie between everyone," says Mike Xu. "We also want our team to feel passion and pride about the company's mission and the work they do here. When team members feel they are working with a talented and motivated group of like-minded individuals toward a similar goal, then this fosters a more collaborative atmosphere that yields more accomplishments and wins. GrubMarket truly embodies this type of culture, which is why we are now one of the biggest and fastest-growing food tech companies in the world. It all starts with supporting and cultivating the most important asset in our company: the people."
Mike also adds that, "GrubMarket's high performance can be attributed to building exceptionally strong teams formed by individual team members contributing uniquely with diverse skill sets and backgrounds. The fresh food industry is highly complex, and to win, you need deep domain and subject matter expertise across a number of areas. Our teams are founded on diversity and mutual respect…and we support them to collaborate in ways that bring out the best in each team member."
You can read the full interview here and see the complete list of winners here.