Healthy Halloween Snack Hacks
[shareaholic app="share_buttons" id="27983777"]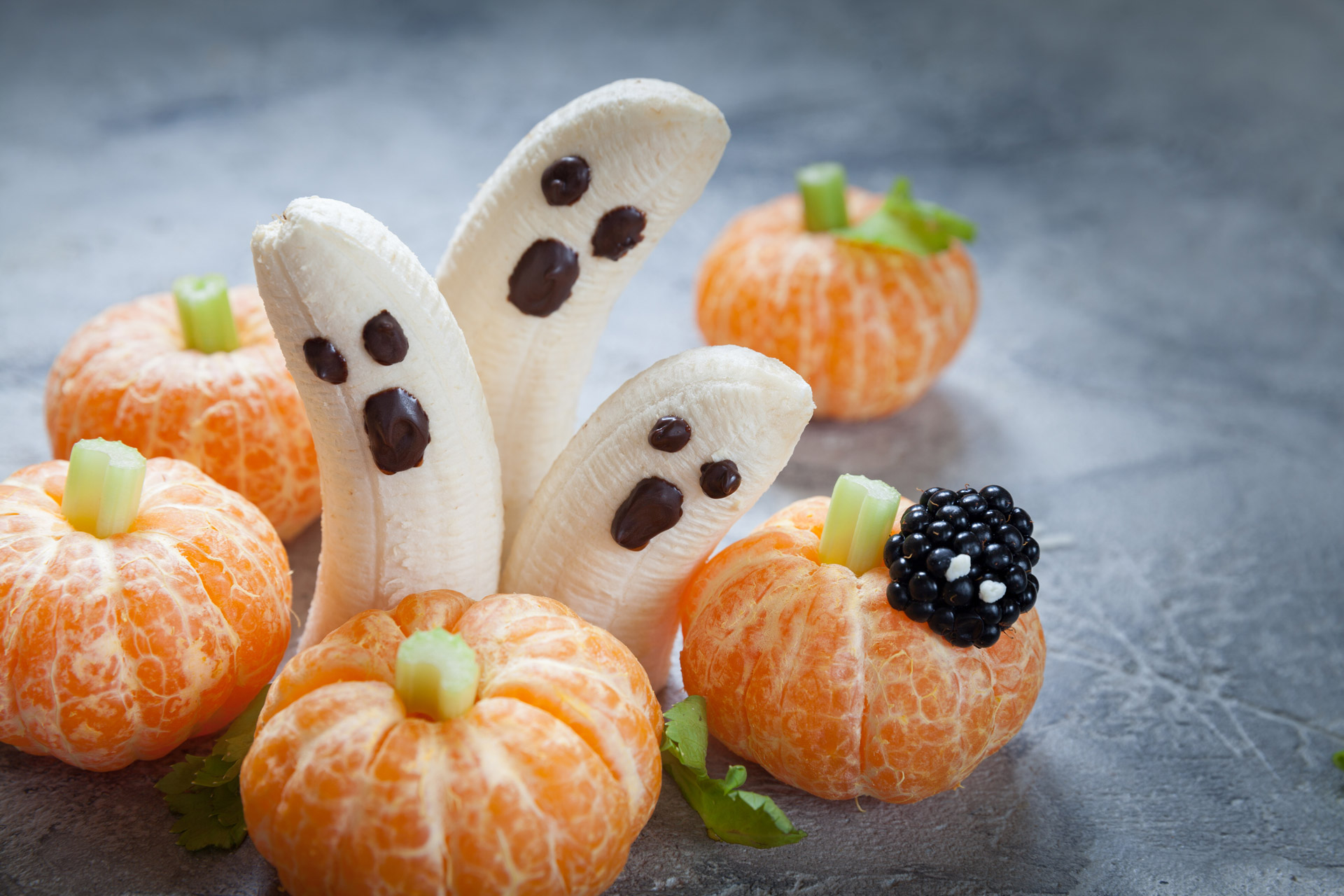 Healthy Halloween snacks? When we think of Halloween, we think of candy! Halloween doesn't have to be full of unhealthy sugar. There are plenty of healthy ways to still enjoy spooky treats without the sugar or preservative overload. Here are 5 easy healthy Halloween hacks for you and your family to enjoy:
Jack-O'-Lantern Fruit Cups
Who said you can only carve pumpkins? Hollow out some oranges and carve them into festive jack-o'-lanterns! Fill them with delicious fruit for a festive and sweet healthy Halloween snack that can be enjoyed by adults and kids alike.
Tangerine Pumpkins
Bippity Boppity Boo! Use some magic and turn tangerines into pumpkins. Peel the tangerines, leaving them whole. Use a cut, thin piece of celery to stick in the middle as a stem and voila! Healthy Halloween pumpkin!
Boo-nanas
This treat literally takes seconds to make and kids love it! Cut bananas in half. Use two mini chocolate chips for eyes and place toward the round top of each cut piece of banana. Use a larger chocolate chip for a mouth, and done!
Candy Corn Parfait
Love how festive candy corn is? Can't justify the sugar? Try a candy corn fruit parfait! Take a cup and layer in pineapple, tangerines, and top with homemade whipped cream or yogurt. It looks just like a big candy corn in a cup!
Chocolate-Covered Strawberry Ghosts
This is a hit for any Halloween party! Cover strawberries in white chocolate (be sure to leave a little extra at the bottom as a ghost tail) and use 3 mini chocolate chips or frosting to make 2 eyes and a mouth! These little ghosts are as delicious as they are cute.
For more healthy Halloween snack ideas, check out our other post here! Show us what healthy Halloween treats you made this season by tagging us (@grubmarket #grubmarket) on social media! We'd love to see!