Our Top 5 Cocktails for New Years Eve
[shareaholic app="share_buttons" id="27983777"]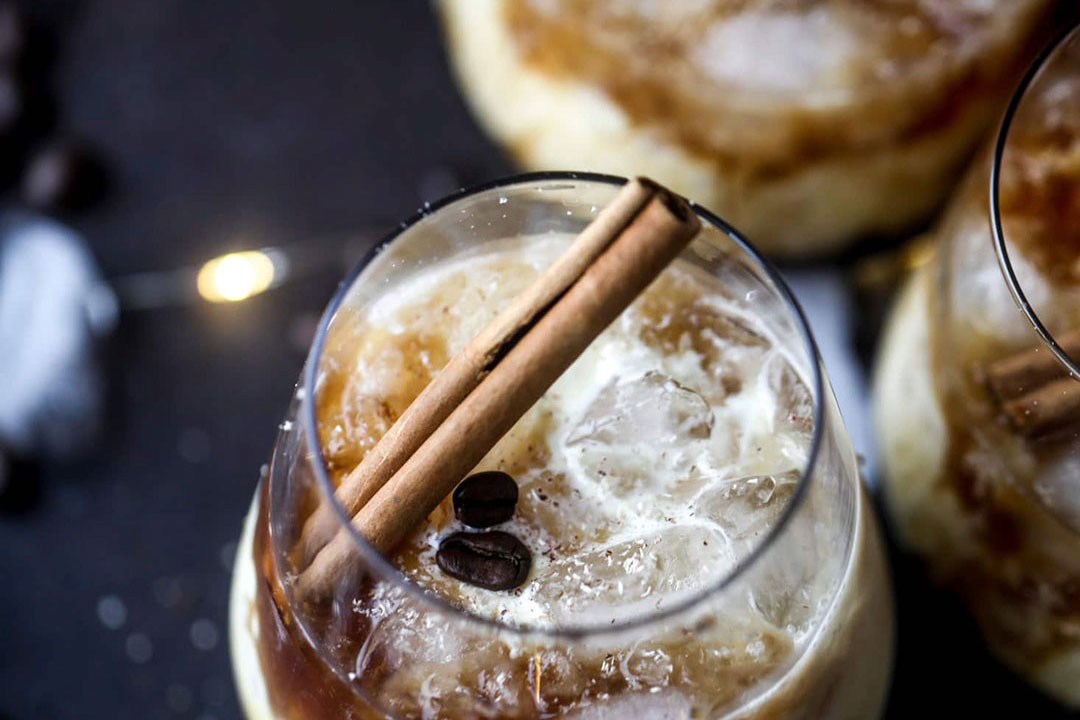 Just a few days away from the last year of our Twenty-Teens, and we're getting ready to pop some bottles to Cheers the New Years. To celebrate, we've compiled our list of our favorite holiday cocktails so you can treat your guests to a little something special.
1. Eggnog White Russian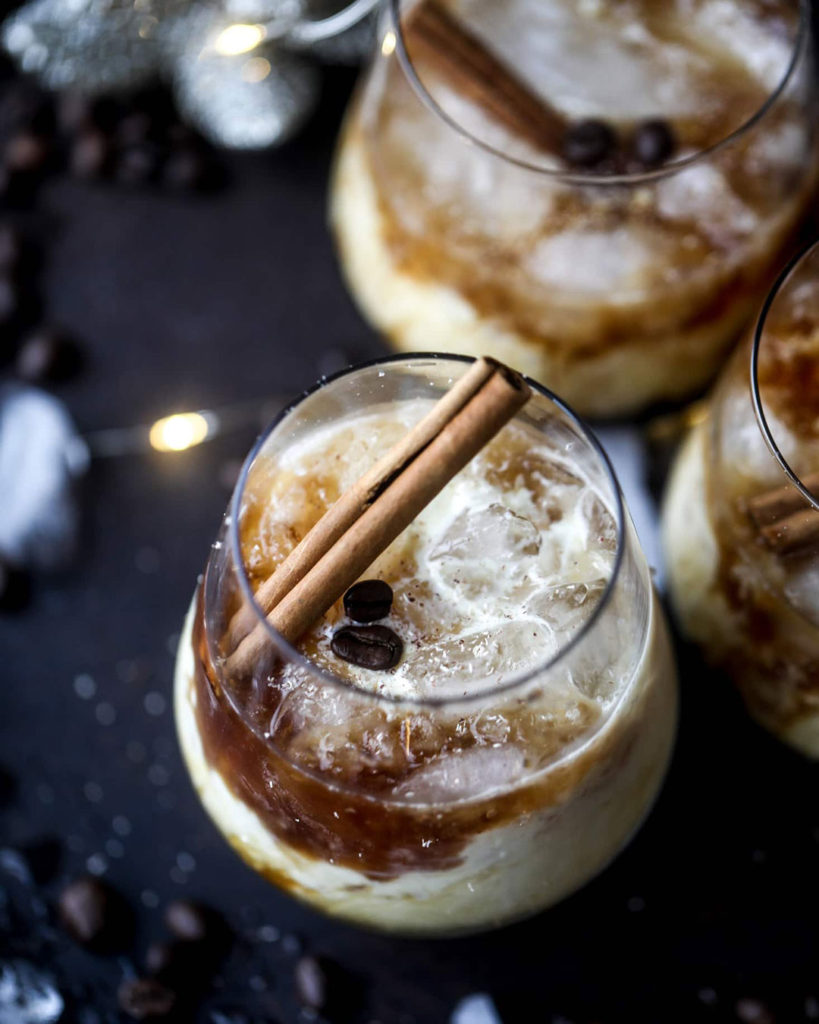 For those who aren't quite ready to let the holiday spirit dwindle, the Eggnog White Russian is a perfect way to continue to feel festive through the night.
A classic white russian is made of vodka, coffee liqueur (like Baileys), and cream. It's an indulgent, dessert-like cocktail, and even though it's a cold drink, it still manages to make you feel warm and cozy.
2 oz vodka
1½ oz coffee liqueur (like Kahlua)
2 oz eggnog (or more, to taste)
Ground nutmeg, to serve
Fill an old-fashioned glass with vodka and coffee liqueur; stir.
Top with eggnog and stir well, until combined.
Add ice cubes, and serve with a sprinkle of nutmeg.
2. Negroni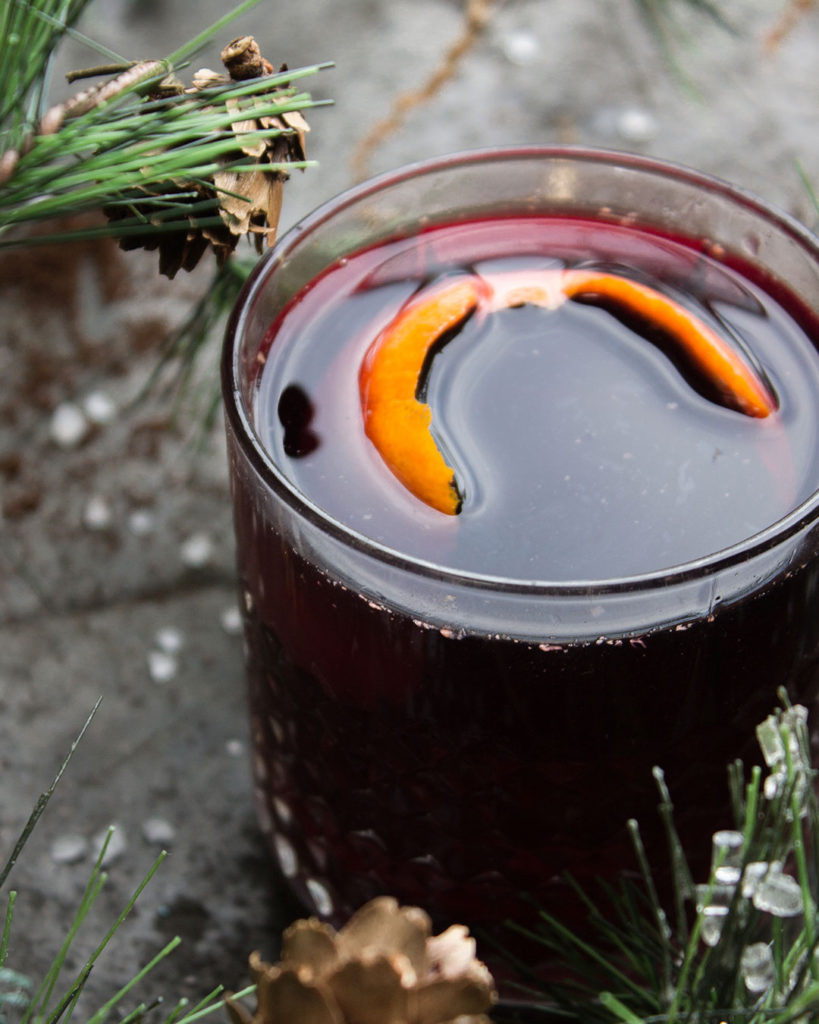 A year-'round staple in it's native country of Italy, Negroni has become increasingly associated with Christmas and the Holidays in the U.S. and U.K. With the classy bitterness of an old-fashioned and the festive red color of the Campari, it's no wonder that bars in LA have begun to appreciate the cult-classic of the negroni.
It's also the favorite cocktail of the late Anthony Bourdain, who we sadly lost in 2018. "A Negroni is a perfect drink as far as I'm concerned," says Bourdain, " It's three liquors that I'm not particularly interested in… But put them together with a slice of orange. It works… That first sip is confusing and not particularly pleasant. But man it grows on you."
1 oz gin
1 oz Campari
1 oz dry vermouth (try an Italian classic like Martini Rosso for bonus points)
Slice of Orange
Add all the ingredients into a mixing glass with ice, and stir until well-chilled.
Strain into a rocks glass filled with large ice cubes.
Garnish with an orange peel.
3. Pomegranate Old Fashioned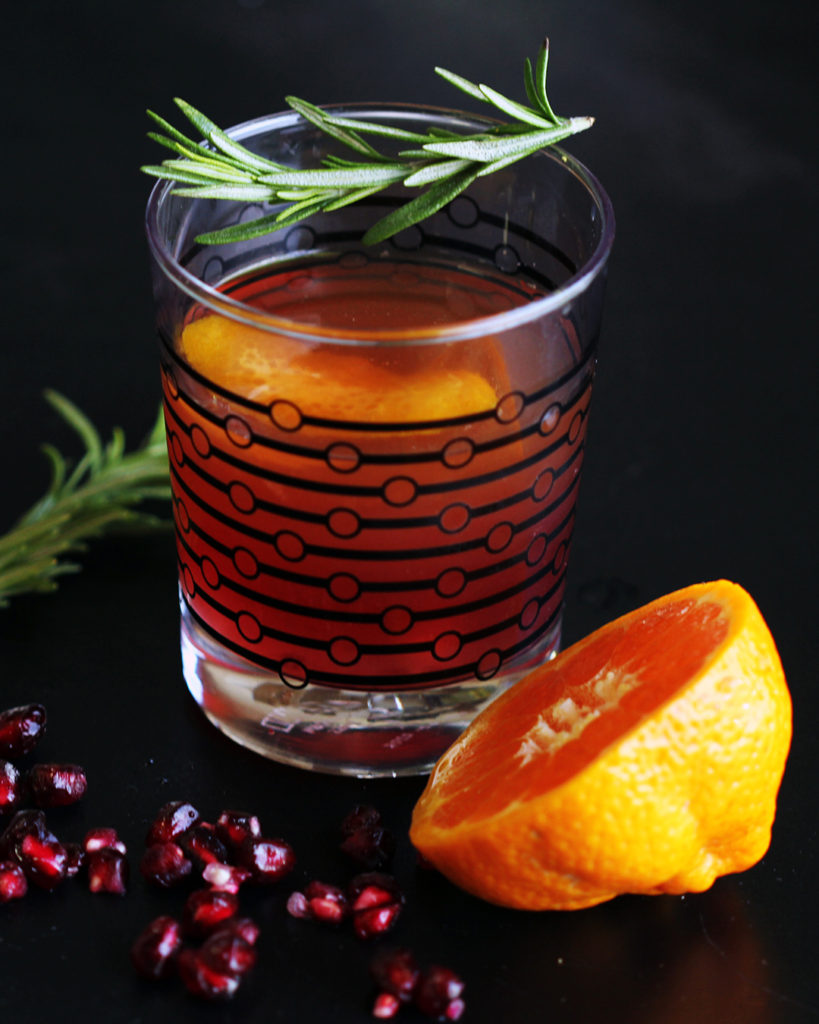 Another bitter-sweet Holiday classic is the Old-Fashioned. However, just a touch of mandarin, rosemary, and pomegranate puts a new twist on this "old classic".
While the historic cocktail was invented in the late 19th century and consists of whiskey muddled with bitters, sugar and citrus, the tangy bitterness of pomegranate arils lend themselves to the complex tones of the Old Fashioned. The Pomegranate Old Fashioned blends the rich berry with sweet Bourbon, brown sugar and aromatic bitters along with bright, seasonal citrus and rosemary.
1 slice orange
10-15 pomegranate seeds
1 teaspoon dark brown sugar
4 dashes orange bitters
4 dashes Angostura bitters
2 ounces Bourbon
Rosemary
1-2 large or 3-4 small cubes of ice
Place orange slice, pomegranate seeds, dark brown sugar and bitters in the bottom of a rocks glass.
With the back of a spoon or a muddler, muddle until all ingredients are blended. Add Bourbon and ice. Stir briskly to chill.
Add a splash of club soda, if desired. Garnish with a sprig of rosemary and a few extra pomegranate seeds. Serve immediately.
4. Mulled Wine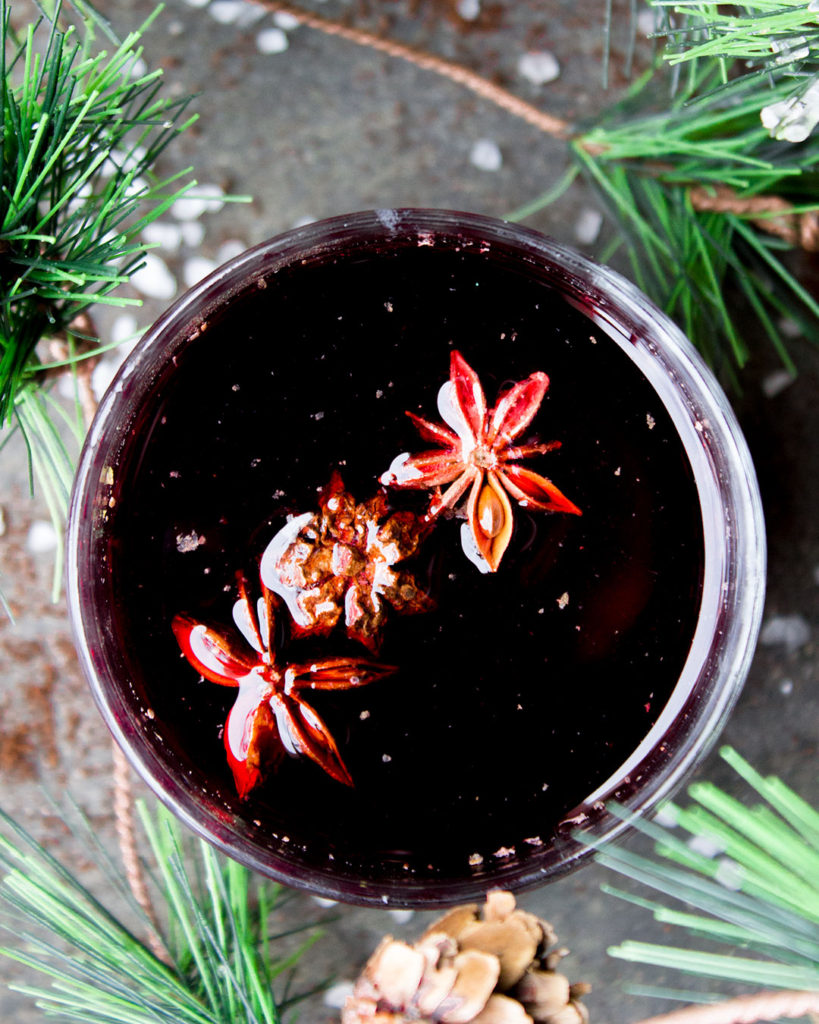 Mulled wine is an aromatic red wine, sweetened and heated with mulled spices and citrus. This traditional winter holiday drink is famous in German-speaking or Alps-adjacent countries like Switzerland, Austria, and Northern Italy, and can be found in around Europe from November thorugh January. Traditionally it is enjoyed during a stroll through Christmas Markets, or to warm you after a cold day on the slopes, or other frigid winter activities.
The wine is brewed along with spices for hours, and depending on the region can consist of any combination of combination of cloves, star anise, cinnamon sticks, and vanilla beans. It's like winter sangria, but less sweet and much cosier.
2 oranges, sliced
10 cloves
3 star anise
4 cinnamon sticks
1 tablespoon vanilla
1-2 bottles of a dry red wine
1 quart of spiced apple cider
1/2 cup of brown sugar
Stick whole cloves into the orange rhinds and place into a slow-cooker or instant pot.
Add star anise, vanilla, cinnamon sticks, and cider and set to 'slow cook' on the lowest setting.
After an hour, strain out orange slices and spices, add one bottle of red wine and close for another hour.
Test your mulled wine. This is where it becomes a matter of taste. Add the second bottle of wine and/or the brown sugar and continue to slow cook for another hour until you have the flavor you love.
Ladle wine into small mugs and serve warm. Garnish with a cinnamon stick and orange peel if desired.
5. Strawberry Tangerine Bellini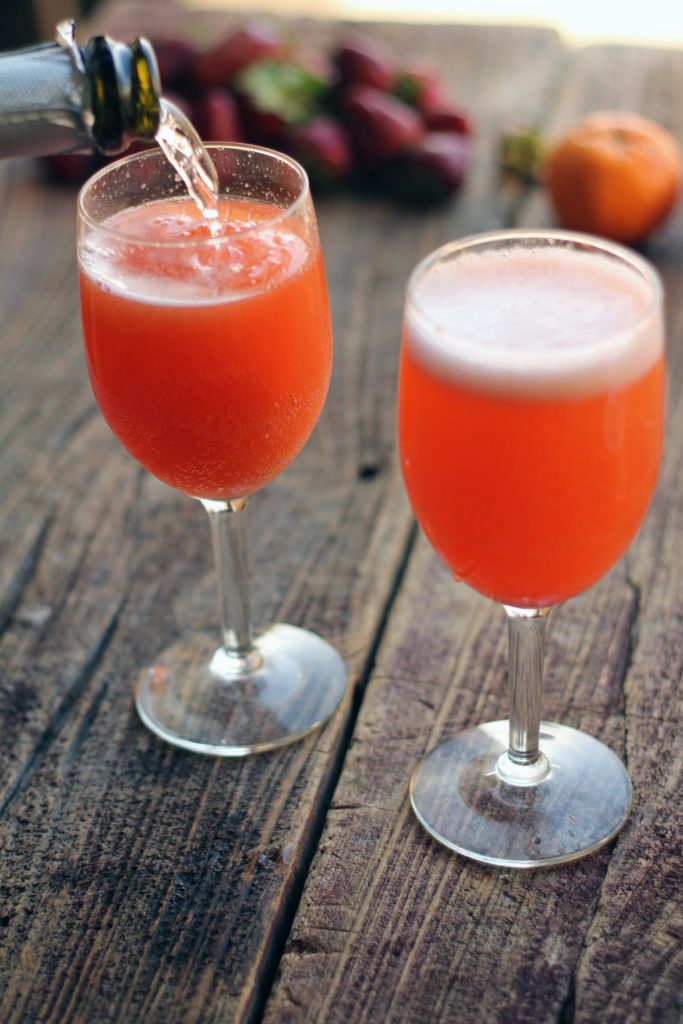 It just isn't New Year's without a little champagne. But are you bored of the same old bubbly? We were. That's why we made our take on the Italian classic Bellini, with a fruity Californian twist.
The Bellini is a famous champagne cocktail created by Giuseppe Cipriani, proprietor of Harry's Bar in Venice. The Bellini has become one of the most famous and popular of champagne cocktails. It's typically made with peaches, but since it's not peach season (yet!) we went with some strawberries and tangerines for an in-season twist!
1 cup Strawberries
2-3 Tangerines
Champagne
Add strawberries and tangerines to a food processor or blender.
Puree until smooth.
Strain juice through a cloth or colander.
Add juice to champagne flutes and top with champagne.