Romanesco: 5 Reasons To Fall in Love
[shareaholic app="share_buttons" id="27983777"]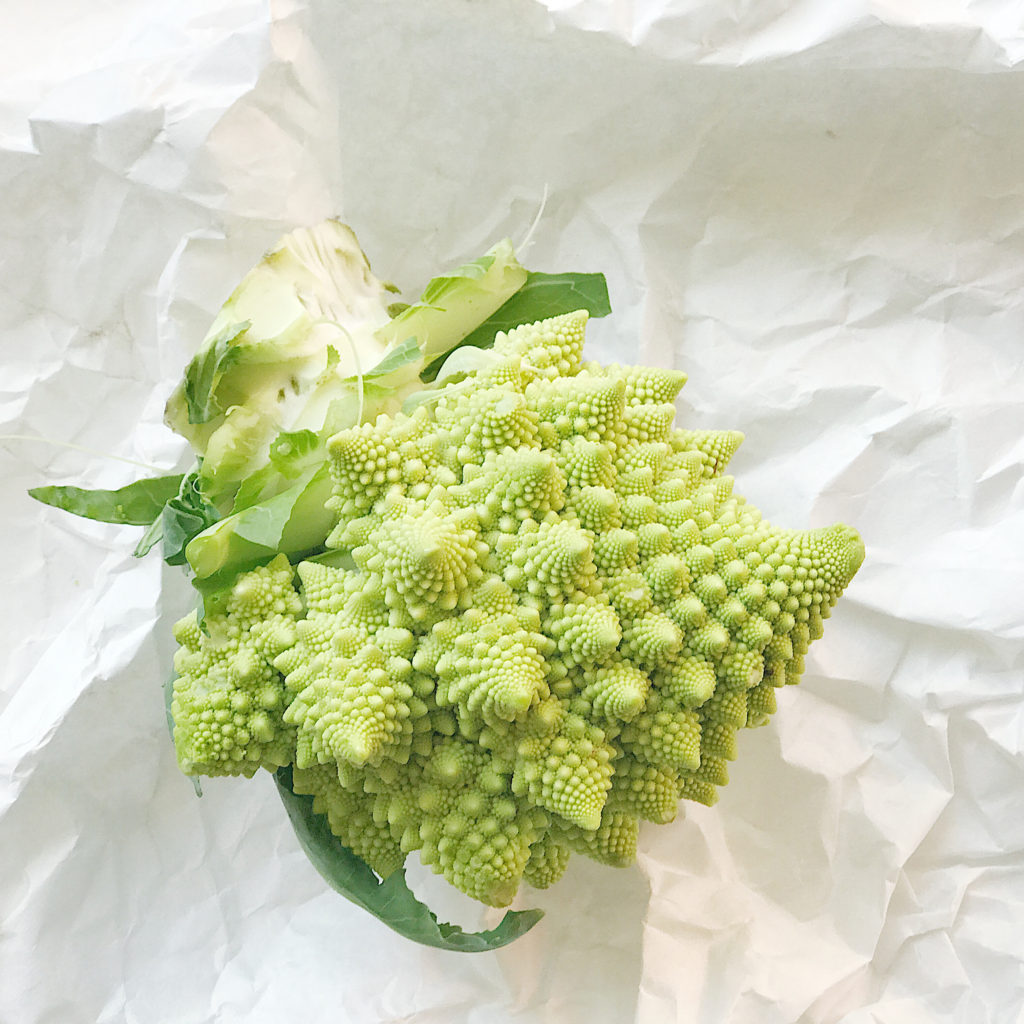 Get ready for a romance, because you're about to fall in love with dreamboat of a veggie, the one-in-a-million, Romanesco Broccoli. 
What is Romanesco Broccoli? 
Although it may look like something from the mind of Dr. Seuss, this unique and delicious veggie is actually a love-child of broccoli and cauliflower. In fact, depending on the farmer or market, some may call it Romanesco Broccoli, while others may call it Romanesco Cauliflower. Though, we're still not sure about which side of the family those alien Christmas trees are from. Either way, we are always excited when it arrives at GrubMarket!
How does Romanesco taste?
Surprisingly it has a slightly nutty flavor when cooked. Closer to a cauliflower mixed with chestnuts, it is less bitter than its broccoli brothers. It tastes fantastic, especially roasted. Although the perfect geometric patterns on each floret, as unique as snowflakes, maybe just too beautiful to eat. And they are… until you smell them coming out of the oven.
Why is it called Romanesco?
"Romanesco" (when not associated with this broccoli, is actually the name of the dialect (regional pre-Italian language) spoken in Rome, Italy! This light green verdura (vegetable) comes from Lazio, Italy, the region of Rome. In Rome, they call this veggie Broccolo Romano (or Roman Broccoli). In Rome, you'll see it roasted in side-dishes (or contorni) or sprinkled across seasonal pasta throughout the spring and fall. However, there is one dish that it romanesco broccoli is most famous for across the country, though we doubt it will work its way into your repertoire.  The traditional Roman dish (pasta with broccoli in arzilla broth) is typically made with sting-ray! So, if you happen to have some spare sting-ray lying around, feel free to try this one.
What are the benefits of eating Romanesco?
As all the vegetables of his family, Roman broccoli is also rich in vitamin A, Vitamin C and important minerals such as iron, magnesium, potassium and phosphorus, vitamins that helps to inhibit the genes responsible for cell aging, in practice is the true elixir of youth! But beyond that, it is as dense and filling as potatoes, but much lighter in carbs. And since broccoli is naturally full of protein, it's a great choice when you want something to fill you up without the calories. 
Great! Now how to cook Romanesco?
Our favorite way to prepare romanesco broccoli is by cutting away the florets from the dense tree-like stalks and placing them on a baking sheet with a drizzle of olive oil, pecorino cheese, and red pepper flakes. It's cheesy, spicy, nutty and crunchy, not to mention beautiful! However, it has a thousand uses in the kitchen. Boil it, sautée it, or eat it raw! (Thinly sliced with salt, lemon, and olive oil) Or, you could steam it and puree along with cream for a delicious fall and winter soup.