We Stand in Support of the AAPI Community
[shareaholic app="share_buttons" id="27983777"]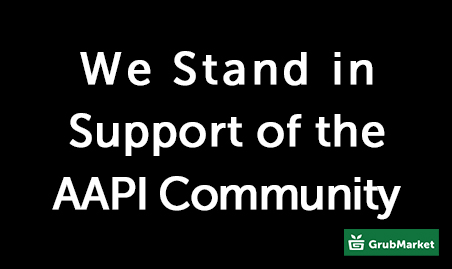 Since the start of the pandemic, there has been an increase in violence against Asian Americans and Pacific Islanders (AAPI). In just the past few weeks, we have witnessed a number of horrendous incidents targeting Asian Americans across the country.
This issue is deeply important to us. GrubMarket Inc. is a company founded by Asian Americans, and today, we employ many Asian Americans and Pacific Islanders throughout the U.S. We stand by them and want them to feel safe and supported in their homes and communities.
Furthermore, over the years, GrubMarket has grown as a company to include Americans of all races and ethnicities – just as the U.S. food supply chain is comprised of hard-working Americans of many diverse backgrounds and cultures. Together, we work towards a better future for all the people we touch – from farmer to restaurant owner, from delivery driver to harvester, from family to family across all races, ethnicities, and cultural backgrounds.
We are committed to helping pave the path towards a better, healthier, and more inclusive future for all, and we believe there is no place for hate and discrimination in the future we envision. We condemn the hate-driven violence, racism, and discrimination that we have seen, and we aim to be a part of the solution.
If you are interested in joining us on our journey, here are some initial resources where you can learn more and offer your support:
Other ways to support the cause include supporting Asian-owned businesses and simply checking in with your AAPI friends and lending a supportive ear.
Thank you, as always, for being part of our community.