Fun Fourth Food!
[shareaholic app="share_buttons" id="27983777"]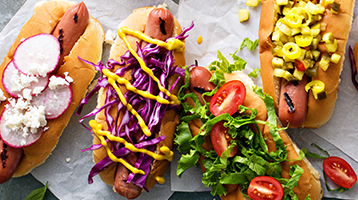 This 4th of July more than 70 Million Americans are planning on grilling out, and we're sure many of you are in that group! Over 150MM hotdogs get eaten every 4th of July in America, And we've come up with some ways to make them a little more interesting than your average "mustard-and-ketchup-on-a-bun" action. Not that there's anything wrong with that!
Did you know most hot dogs come from Iowa? Give our pasture-raised hotdogs from Diamond Mountain Ranch a try this coming weekend and support a local California rancher! If you want good old ketchup and mustard, try our Kensington's Ketchup or Westbrae Organic Stoneground Mustard for a delicious gourmet take on the classic.
Here are a few other ideas declare your independence from average hotdogs on the 4th!
A Ruben Dog! Try this twist on the famous sandwich by adding sauerkraut, swiss cheese, a pickle slice, and thousand island dressing. Fireworks!
Teriyaki Dog! Make your guests' tastebuds sparkle with this fun approach, Grill onions, and top your hotdogs with teriyaki sauce and mayo.
Vegetarian Chili Cheese Dogs. Say what? Try your veggie dog with some Amy's Black Bean Chili and some Spring Hill Cheddar! If you want some crunch on your lunch, crush up some Have' a Chips and try it with chopped onions!
Pizza Dogs! Grill your buns and top your hotdog with Cucina Antica La Pizza sauce and Organic Valley Mozzarella! Try topping it and leaving it on the grill for a few minutes to get that melted cheesy goodness!
Street Dogs. Can't leave out this LA Classic. Wrap your dog with Bacon, grill until the bacon is crispy, and serve with grilled peppers and onions.
These are just some idea starters, but remember, we're celebrating American independence and ingenuity, so there are no rules! Happy 4th of July!